Factory Fresh Georgia STEEL Buildings for the Peach State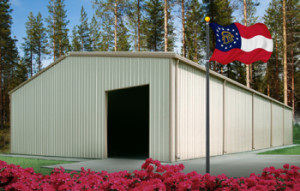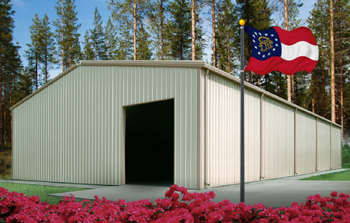 In the last decade, Georgia's population growth outpaced even Florida.
Agriculture has given way to service industries and manufacturing, as the rural population migrates to urban areas.
Georgians today enjoy one of the strongest economies in the U.S. The combination of Georgia's flourishing economy and its 17.1% population growth create a very healthy construction market— with prefabricated metal building kits in Georgia leading the charge.
RHINO Metal Buildings in Georgia: A Sweet Deal
Georgia remains the country's largest producer of the four 'Ps'— plywood, peanuts, pecans, and peaches. However, there is another 'P' product embraced by Georgians— prefabricated metal buildings.
RHINO's prefab metal buildings in Georgia arrive with all the framing components already cut to length, welded into shape, marked, and drilled for quick assembly.
Some of steel building applications in Georgia include:
Pole Barns in Georgia
Steel Warehouses for Georgia
Steel Industrial Buildings in Georgia
Steel Church Buildings for Georgians
Georgia Steel Aircraft Hangars
Recreational Buildings for Georgia
Prefabricated Steel Buildings in Georgia
Metal Garages in Georgia
Georgia Metal Storage Buildings
Georgian Indoor Horse Arenas
Steel Commercial Buildings in Georgia
Agricultural Steel Buildings for Georgians
Metal Barns in Georgia
RHINO metal buildings in Georgia provide better protection from damaging wind, lightning, fire, termites, and mold than wood structures.
Finished steel buildings are attractive and environmentally friendly, too.  Moreover, RHINO metal buildings retain their beauty and value decades longer than conventional construction— all at a very affordable price.
Strong, Versatile, Long Lasting Metal Buildings in Georgia
The versatility of RHINO prefab steel buildings is second to none.
RHINO steel building systems can clear span up to 150' wide on a standard design (with designs of 200' wide or more on custom orders).
These metal building kits in Georgia can be any length needed— and expand easily later.
The superior strength of steel allows clear span structures which accommodate anything from aircraft to massive manufacturing plants, giant warehouses, and huge distribution centers or import facilities. Yet the same building system is economical enough to build a steel barn, commercial office building, a low-rise medical facility, a restaurant, or a backyard garage and storage building.
Steel exterior panels and trim are available in an array of colors. However, RHINO metal building kits can also be finished in more traditional exteriors like brick, stucco, stone, wood, glass, or tilt-up concrete.
Please call a RHINO metal building specialist today for more details on metal buildings in GA and to get a free quote at 940.383.9566. Look nowhere else to find GA metal buildings.