RHINO Steel Buildings:
A metal building system so versatile, it is limited only by your imagination.
The surprising flexibility of prefab steel framing

One of the most amazing benefits of a well-constructed steel building is its versatility. Not only does that make it easier for the builder to choose a structure for his purposes, it also makes the property a better investment and easier to lease or sell later. The same 50' x 60′ x 12' (width, length, height) framing package could easily be a backyard shop and storage for a do-it-yourselfer, a café, an office building, a boutique, an auto repair shop, or medical clinic— or anything else you could imagine. A 60' x 100 'x 18' might become a shelter for farm equipment, a cafeteria, a childcare center, a department store, a church, a small manufacturing operation, or book store. Yet each could look totally different from the outside, depending on the exterior treatment and options chosen by the owner.
What size buildings are available from RHINO?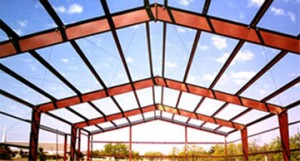 Although RHINO has shipped buildings so large that 30 trucks were required just to deliver the steel, one of our most best selling building sizes is a modest 40' x 60' x 12'. Other popular sizes are 30′ x 40′, 40′ x 40′, 40′ x 60′, 40′ x 80′, 50′ x 60′, 50′ x 80′, 50′ x 100′, and 60′ x 100′.
Every project can be customized to fit the specific needs of the buyer. From a 30' x 40' building to a 200' x  500' structure or even larger, there's no low-rise building project that cannot be designed quickly and economically with our versatile building system.
What size building do you need?
There are a number of things that must be considered in determining the size of your metal building.
USE
What will be the end use of your building? Obviously an RV garage beside your home is going to be radically different in size than a barn, an import warehouse, an aircraft hangar, or an upscale restaurant, yet RHINO's prefabricated metal buildings are terrific for all these applications. Will your building have a single purpose, or multiple uses? For example, do you plan to have a home office space and additional storage in your RV garage? Will your restaurant also have a large private room for banquets or business meetings? Does your barn also need to shelter hay and farm equipment? Thinking through the best ways to make the most of your steel structure will help in determining how much square footage is required.
LOCATION
How much area is available for your building? How big is the lot or area where you plan to erect the building? What is the shape of the lot? Are there any easements required at your location? If this is a commercial or industrial enterprise, how much space will be required for parking? Answering these questions will give you an idea of how much space you have available for your new building. (While a 60 'x 100' and a 40' x 150' both contain 6,000 sq. ft., they may not work equally well on a long, narrow parcel of land.)
WIDTH
Once you decide on the amount of square footage you'll need for your building and the size and shape of the area available on your site, you'll be ready to determine the physical dimensions of the structure. Width is the most critical dimension for most building applications. If clearspan, unobstructed room is necessary— for example in large restaurants, warehouses, churches, theaters, structures for large and heavy equipment, or hangars— RHINO's clearspan capabilities allow you to layout the space in any way you desire, with plenty of room for unencumbered maneuverability. RHINO standard buildings can span up to 150' without interfering support columns (and can easily span 200' or more with a custom quote). We can create framing as wide as 480' with posts in the middle.  (If your building's purpose doesn't require an open span structure, it may be more economical for you to use a building with support columns.)
LENGTH
RHINO buildings lengths are normally in 10' increments. However, if you have specific plans, we can design a building to your specifications. From a design standpoint, there is literally no limit to the length of the building you can create with the RHINO system.
HEIGHT
The most important consideration in choosing the height of your structure is end use. Metal building height is measured at the side wall, called "eave height."  For instance, if you need a 14' high door to accommodate an RV, then you'll need at least a 16' eave height. If you are planning on adding a second story in all or part of the building or require a mezzanine, you'll need at least a 20' tall sidewall. For hangars, equipment, trucking buildings, and warehouses, the height of the structure will be determined by the equipment you'll be housing and using. RHINO's structures can be up to 40' high as a standard, with even higher eave heights possible with a custom quote. RHINO roof lines are offered from 1:12 pitch to 4:12 pitch as standards. (Anything 5:12 pitchand above will require a custom quote.)
EXPANSION
Try to envision whether you might need to expand your structure later. Fortunately, adding framing to the endwalls of a RHINO standard metal building size is simple and economical, by simply ordering more frames. (You might want to consider that also in the placement of your building on your lot, allowing room for any future expansion.)
BUDGET
While almost everyone is, of course, constrained by the budget available for a building project, try to consider future contingencies. Buying a structure that is too small for your needs will not be economical in the long run.
Call a RHINO building consultant today for information on our standard metal building sizes. Let our knowledgeable and experienced staff assist you in choosing the perfect RHINO building package for you next building project. Call today 940.383.9566.