RHINO Steel Buildings Go South of the Border in Mexico
The structural strength, ease of construction, affordability, and durability of RHINO custom steel buildings in Mexico have earned a hearty welcome— especially in the growing commercial and industrial markets.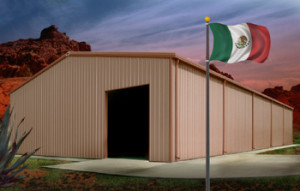 In fact, one of RHINO's largest industrial metal buildings shipped to Mexico last year. Delivered on a caravan of 30 semi-trailers, the whopping 255' x 500' x 42' (77.7 m. x 152.4 m. x 12.8 m.) mammoth structure included 400 skylights and a beautiful standing-seam steel roof.
Why are so many companies choosing RHINO's prefabricated custom steel buildings in Mexico? The same reasons other perceptive North American companies prefer RHINO: the bottom line. RHINO's custom steel buildings in Mexico are:
Designed specifically to the customer's requirements and location building codes.
Competitively priced, with many value-added features included at no extra cost.
Easy to order, quickly delivered, and simple to erect industrial metal buildings with bolt-together framing.
Durable and low-maintenance, retaining their beauty and resale value for decades.
Affordable to operate and economical to heat and cool, with optional insulation.
Produced of recycled steel— and ready to be recycled again at the end of the building's lifespan.
Resistant to termites, vermin, fire, lightning, and mold.
Strongest Protection of Mexico Steel Buildings from Earthquakes and Hurricanes
Hurricanes strike Mexico from both the Pacific Ocean and the Gulf of Mexico and the Caribbean, often with devastating results. (Just recently, 'twin' storms— Tropical Storm Manuel and Hurricane Ingrid— socked a one-two punch into Mexico from both coasts, killing over 150 people.)
Hurricane Gilbert in 1988 struck the Yucatán as Category 5 monster with 185 m.p.h. (56.4 meters-per-hour) winds. Gilbert then slammed into northern Mexico as a Category 3 storm, leaving 200,000 people homeless.
RHINO custom steel buildings in Mexico meet all local building codes, including wind loads, for industrial metal buildings. Even higher-than-code loads are possible, by request, for even greater protection. Wind-resistant overhead doors are available, too.
In the last century, Mexico suffered many earthquakes measuring over 7.0 on the Richter Magnitude Scale. The 8.1 Mexico City earthquake in 1985 flattened buildings, leaving an unknown number between over 10,000 people dead and more than two million homeless.
RHINO industrial metal buildings contain built-in earthquake resistance. They not only meet the toughest local seismic requirements, but the connections themselves are designed to shift with the quake— without breaking under the strain which includes:
Pole Barns in Mexico
Steel Warehouses for Mexico
Steel Industrial Buildings in Mexico
Steel Church Buildings for Mexican
Mexico Steel Aircraft Hangars
Recreational Buildings for Mexico
Prefabricated Steel Buildings in Mexico
Metal Garages in Mexico
Mexico Metal Storage Buildings
Mexican Indoor Horse Arenas
Steel Commercial Buildings in Mexico
Agricultural Steel Buildings for Mexican
Metal Barns in Mexico
Agriculture, Aviation, Commerce, And Industry Custom Steel Buildings In Mexico
Regardless of the project, versatile RHINO-tough industrial metal buildings are the best choice for steel framing in Mexico. Choose RHINO when looking for construction companies in Mexico.
Choose from a palette of colorful and durable steel exterior wall panels, roof panels, and trim— including energy-saving cool panels for those hot Mexican summers. Stucco, brick, tilt-up concrete, glass, wood, or other traditional building material may be used if required.
Please call our international number at 011.940.383.9566 to discuss your project and our custom steel buildings in Mexico.