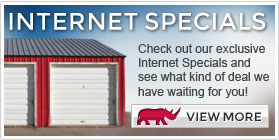 The RHINO steel building difference
All Steel Buildings Are Not Alike!

We had over 37% repeat and referral customers in the last 12 months!
We have an A+ rating from the Better Business Bureau
We are registered to do business in all 50 states & Canada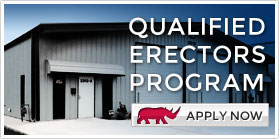 Rhino is Raising the Standard in Steel Buildings
Cover Trim

Die-formed ridge cap

Weatherproofing eave sealing system
RHINO Steel Building Systems, Inc. provides kits for metal buildings and structural design for virtually all types of steel buildings. Headquartered in Texas, RHINO delivers metal buildings from multiple shipping locations all across the continental United States. Unlike many other prefabricated steel buildings, RHINO buildings include superior features as part of the standard building package with all of their metal buildings.
Extended-life self-drilling fasteners
Formed base trim to eliminate rust
Die-formed ridge caps for tighter roof seals
Weatherproofing closure strips
Purlin Bearing Rib (PBR) steel roof panels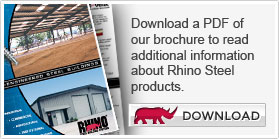 common questions
What kind of foundation is required?
A RHINO structure can be built on piers or a perimeter foundation, with or without a concrete slab. If a slab is poured…
What is a RHINO Steel Building?
RHINO sells prefabricated steel buildings with components manufactured in an AISC (American Institute of Steel Construction) certified plant. All steel building frames and…
What if I want windows and doors?
Various types of windows and doors for your steel building may be ordered from RHINO. Framed openings for the doors and windows can be factory-located…