Ten Greatest Strengths of Industrial Metal Buildings
What gives steel industrial buildings such a powerful edge in the industrial building market?
Here are the top ten reasons industry chooses steel-framed construction:
#1: Industrial Metal Buildings and the Bottom Line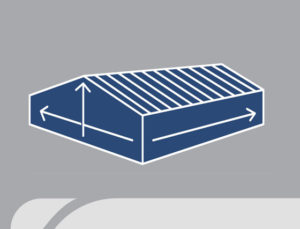 No business can afford to ignore the cost of building a new facility, much less operating costs.
Quite simply, RHINO pre-engineered steel framing delivers the most cost-effective way to build and operate large industrial structures.
Businesses find metal buildings cost less to build, less to maintain, and less to operate than other building alternatives.
For example:
No wonder steel frames 95% of today's factories, forges, foundries, mills, mines, power plants, refineries, warehouses, and other industrial structures!
#2: Steel Industrial Buildings Provide Unobstructed Space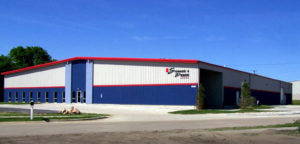 Industrial businesses are no-frills operations.  Aesthetics take a back seat to function. Therefore, an industrial building typically starts with a basic box-shaped design.
In addition, industrial businesses demand open, unencumbered floor space— and lots of it.
Steel's strength really shines in simple box-shaped structures with vast open space.  Moreover, this is the "sweet spot" of pre-engineered steel buildings, often reaping the most economical cost-per-square foot.
With the highest strength-to-weight ratio of any building material, pre-engineered metal buildings produce immense clear span structures up to 300-foot wide— the length of a football field.  Prefab steel buildings reach up to 480-feet in width with minimal interior support columns.
#3: Steel Industrial Structures Offer Floor Plan Flexibility
Industrial operations need to adapt space quickly to maximize efficiency.  The unobstructed interiors of clear span steel industrial buildings mean greater floor space options.
In prefabricated industrial buildings, space is not only horizontal, but also vertical.
Metal warehouses and industrial structures allow soaring heights of 40-feet or more.  By adding economical mezzanine floor systems, industrial building owners expand usable space.  These second floor systems provide storage room, office space, or warehousing for smaller inventory items.
#4: The Precision Framing of RHINO Industrial Buildings
Industrial operations rely on precision to create their products or warehouse their inventory.  That is why they appreciate the consistency and precision of factory-produced RHINO prefab warehouses and industrial structures.
Trained steel manufacturing professionals cut, shape, drill, punch, weld, paint, and mark every component of a steel building kit to exacting engineered designs.
The RHINO steel framing package arrives ready to assemble.  A prefab industrial building system saves time, money— and hassles.
#5: RHINO Structures Provide Easy Access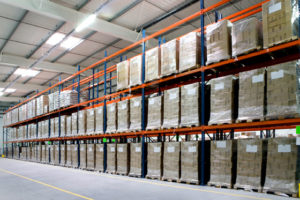 Maneuverability is important to most industries.  Easy access saves time— and avoids accidents.
The bigger entryways afforded by strong steel buildings help move large equipment, products, trucks, or aircraft safely and easily.
Steel buildings factory-locate doorways wherever most convenient for your particular industrial application.
RHINO offers overhead doors ranging from 20-foot to 70-foot wide.  Insulated and wind-rated doors are also available, in a variety of lift styles.
#6: RHINO Steel Buildings are Built Strong to Last Long
Durability is one of RHINO industrial metal buildings' greatest assets.
A well-constructed steel industrial building lasts decades longer— and retains its value far better— than any other building system.
#7: Future Expansion of Metal Warehouses and Steel Industrial Structures
As an industry changes and grows, its needs will change.
Expanding is no problem with well-planned RHINO pre-engineered steel buildings.  Adding steel framing to either endwall is simple and economical.
Since steel framing is completely self-supported, sidewall extensions are also an option.
In addition, pre-engineered steel buildings make renovations far less disruptive to business than other types of construction.
#8: RHINO Building Options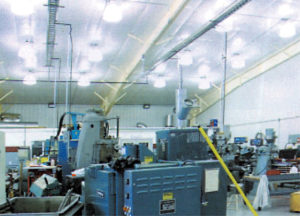 Enhance your industrial building with the following RHINO options:
Entry doors, overhead doors, and door accessories
Interior liner panels and partitions
Metal building trim accessories
Ridge vents and louvered vents
Skylights and wall lights
Standing seam metal roofing and cool-coated roof panels in your choice of colors
Metal canopy kits
Steel gutters and downspout systems
Mezzanine floor systems
#9: Interior Cranes for Industry
Industrial businesses often require overhead cranes to move heavy-duty products down a production line.
RHINO prefab warehouses and industrial metal buildings can be engineered to handle overhead crane loads, as well as industrial-sized heating and air units.
#10: Steel Buildings are Green Buildings
Green building starts with steel, the most recycled material on earth.
In fact, steel is the only material that can be recycled repeatedly without losing any of its built-in strength.
Conclusion
Steel dominates the industrial building market because it is the only building material that fulfills all the special needs of industry.
RHINO Premium Industrial Buildings and Metal Warehouses

See for yourself why so many RHINO customers return to us time and time again for their industrial building needs— and enthusiastically refer RHINO to other builders and buyers.
Learn more about The RHINO Difference in metal buildings.  Call RHINO now at 940.383.9566.
Our experienced metal building specialists will answer every question on industrial structures and our pre-engineered steel buildings.
(Updated 3-17-2021.  Originally published 1-20-2017.)