Sustainability and Stewardship in Today's Religious Building Projects
Today, many churches are choosing green, sustainable buildings for their worship centers and auxiliary buildings. Churches are building green structures for the same reasons commercial and industrial builders— it simply makes sense.
Choosing building products with the smallest possible environmental impact is the primary goal of all green building, including religious facilities.
3 Reasons Churches are Going Green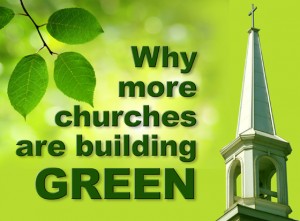 Three main influences usually fan the flock's interest in creating sustainable structures.
1. ENVIRONMENTAL-CONSCIOUS CONGREGATIONS: Many parishioners practice eco-friendly habits at home and at work. This is especially true of younger churchgoers. Motivated to make a difference, they support ways to recycle and reduce energy consumption both in principle and in practice. They expect no less dedication from their spiritual home.
2. STEWARDSHIP: Most church congregations view environmental responsibility as an extension of their stewardship of creation. They choose to use sustainable building materials wherever feasible, rather than wasting natural resources.
3. FINANCIAL REWARDS: Building green saves green. Structural systems which incorporate recycled materials, reduce waste, and shrink energy consumption also save money. Long-lasting materials stretch a building's use— and often increase the value of the church property. Integrating energy-conserving features into religious facilities drops operating costs. Spending less on maintenance and operation means more money for outreach ministries.
3 Tips for Planning Church Buildings
Church building projects can be more complicated than other types of building projects, simply because of the number of people involved in the process.
Diverse expectations and tastes often collide. Finding a consensus sometimes takes the wisdom of Solomon, the patience of Job, and the persistence of Nehemiah.
Following these guidelines will help prepare the church for pursuing a green building project.
1. THINK AHEAD. Too many religious congregations start with the idea that building a larger facility will automatically increase attendance. Know what size structure you will realistically need. Allow room at the site for future expansions, rather than building an over-sized facility from the start.
2. DEFINE PARAMETERS: Start with a realistic budget. Count the cost. Define the priorities. Develop a vision. Share that vision with the congregation.
3. BEGIN EARLY. Church building projects will inevitably take longer and cost more than you estimate. Allow ample time to explore zoning, choose a site, study plans, and consider green building choices. Identify the green building materials and alternatives most critical to incorporate within the design— and within the budget. Compare initial costs of green building options with expected maintenance and operating costs.
Churches are Building Green with Steel
Steel buildings make excellent eco-friendly church structures. Here a few of the reasons:
Steel is the most recycled material in the world. It never loses strength— regardless of how many times it is recycled.
Pre-engineered steel buildings capitalize on the strength of steel. With steel, fewer pieces builder a stronger structure than other building materials.
Framing created in a quality-controlled factory ships directly to the site, ready to assemble.
A well-insulated steel church building slashes energy costs. In addition, steel buildings create tighter structures which reduce energy loss.
Call RHINO Steel Building Systems now. The hot line is 940.383.9566. Our experienced metal building specialists will provide details and suggestions for your next church building project, along with a detailed quote.