Building a Garage with the Strength of Steel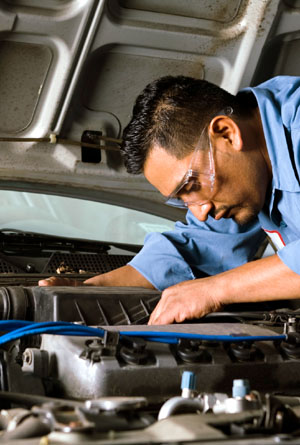 Auto shops need open space for the vehicles they repair.  Conventional building materials like wood or block require structural load-bearing columns or walls to support the roof.  That is very limiting for a garage operation.  Pre-engineered metal buildings provide open, clear span structures, which maximize the work area.
In fact, the majority of auto, truck, boat, and recreational vehicle repair shop owners build with steel framing.
Metal Building Benefits for the Auto Shop Owner
Super-strong prefabricated steel buildings are self-supporting.  Steel framing allows for open spans up to 150' wide or even more without interior columns to get in the way.  Arranging an unobstructed auto repair garage becomes simple.  Clear span pre-engineered metal buildings also offer the flexibility to rearrange the floor plan as needed.
Specialty vehicle repair garages require taller structures to accommodate lifts.  High profile vehicles like semi-trucks, RVs, or buses also demand taller repair bays.  A building system as strong as rigid-framed steel allows eave heights up to 40' or more.
Prefab metal buildings can be any length desired.  As a auto repair business grows, metal buildings make expansion by simple by just adding more steel frames to either end wall, increasing the number of bays needed.
Overhead Doors for Auto Shop Bays
All professional auto, truck, and boat facilities depend on sturdy overhead doors as part of their structures.  Prefabricated steel building kits can be fitted with either mechanical or manual lifting systems in a choice of sectional or drum styles.  For larger operations such as farm equipment or aviation repair facilities, hydraulic bifold doors up to 60' wide are available.
Pull-through bays are easily arranged with a building material as strong as steel.  RHINO also offers insulated overhead doors.
Overhead doors may be certified to withstand up to 145 mph winds.
Why Owners turn to RHINO for their Auto Shop Buildings
RHINO prefabricated metal buildings are:
Fast and easy to erect, with all framing pieces prepared at the factory for easy assembly at the job site
Strong and durable, withstanding the test of time and retaining long-term value
Much more resistant to damage from fire, high winds, heavy snows or rains, earthquakes, termites, vermin, and mold than wood-framed structures
Available in three sturdy steel panel styles and in an array of color choices
An environmentally responsible choice, with a high recycled content
Call RHINO today at 940.383.9566 for a free quote and get started on your dream auto shop building design.