How Pre-engineering Simplifies Inspections for Steel Buildings
How does the pre-engineering of metal building kits streamline the building inspection process?
A quality steel building company supplies detailed documentation for the building. Consequently, the building inspector's focus shifts more toward ensuring the kit assembles exactly as specified.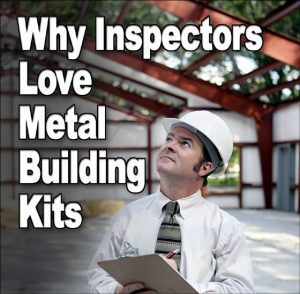 While often viewed as a pain and a hassle, building inspections actually benefit builders.
Knowing they must pass inspection keeps builders determined to build it right the first time. They know tearing down improperly erected framing is both frustrating and costly.
The Inspection Process
The building department needs to review your plans before construction even begins. They will make sure your proposed structure meets zoning restrictions, local building codes, and any size restrictions. Only then will building permits be approved.
A foundation inspection assures a correctly poured slab. It checks overall dimensions, thickness, and consistency of the foundation. The building inspector also tests that the foundation is cured properly.
When your metal building kit arrives, the inspector checks the framing for quality. The inspection includes examining individual components. All framing should bear clear identification markings and anti-corrosion coatings. Welds must also pass inspection.
After erection begins, inspections continue to cover every step of the process.
In a steel building, engineers design each component to carry the load at a specific location in the framing. Therefore, the building inspector makes sure that every part is positioned as indicated on the plans, connected correctly, and braced as indicated.
Detailed Documentation: The Building Inspector's Friend
RHINO's metal building kits supply everything building inspectors need to do their job quickly and easily.
First of all, rigorous quality-control inspections made at the factory add assurance that each part meets the specifications of the design engineer.
Secondly, each order includes Letters of Certification and engineer-stamped plans.
A steel structural engineer licensed in that state stamps and approves the plans. Unlike many of our competitors, RHINO provides three sets of these letters and blueprints— at no additional cost to the buyer.
RHINO Metal Building Kits
RHINO strives to make all building documentation clear and concise. That is why building inspectors love RHINO metal building kits; we make their jobs easier. Should the building inspector have any questions, RHINO is just a phone call away.
We believe you will love RHINO steel buildings, too. Our commitment to quality and attention to detail makes RHINO stand out from the common herd.
Please call RHINO Steel Building Systems now at 1.940.383.9566. Learn more about The RHINO Difference in metal building kits.
We proudly serve all of Canada, the U.S., and Mexico.