RHINO Steel Buildings: Counting a Cornucopia Full of Blessings
As Thanksgiving approaches I find myself contemplating all the many blessings in my life— family, friends, health, and happiness.  As the owner of RHINO Steel Building Systems, I am also thankful for the professional blessings I enjoy in the pre-engineered metal building business.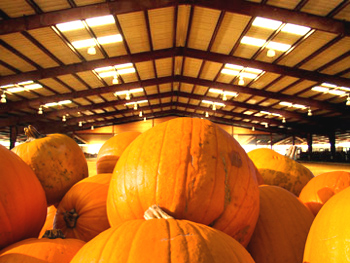 Bear with me as I share with you the results of all this introspection, as I count the specific reasons I am so blessed to be in this business.
Blessing #1:  Forerunners of the Steel Building Industry
I am so grateful for the entrepreneurs, innovators, and steel workers who pioneered the steel building industry, blazing the trail for others to follow.  Without the contributions of these industry leaders in the improvement of steel production and metal building design, RHINO Steel Building Systems would never have been possible.
Blessing #2:  Finding My Niche Early in Steel Building
I am also thankful for hands-on training in steel building very early in my career.
I was very fortunate to learn the pre-engineered metal building business literally from the ground.  I started working on a metal building erection crew at 22 years old.  I traveled all over the Midwest, constructing farm buildings.
There is immense satisfaction in seeing the skeleton of a steel building come together bay by bay, connecting piece by piece, until it stands strong and firm against the sky.  It really is like an erector set for grown-ups.
There is such a sense of accomplishment at the completion of each project.
There was no doubt.  I was hooked for life on pre-engineered steel building.
Blessing #3:  Starting a Steel Building Business in the U.S.
No place on Earth offers inspires big dreams like America.  Whatever your vision, you can pursue that dream in the freedom of the American marketplace.
I am blessed to live and work free.  I am grateful for the opportunities afforded me in the U.S.
I am very grateful to those who forged the dream of freedom that became the U.S.  I am indebted to those who have fought for over 200 years to keep the dream of freedom alive.  And I honor all of those who continue to protect and defend our freedom today.  May God bless every one of them.
May I never take these precious freedoms for granted.
Blessing #4:  The Versatility of RHINO Prefabricated Steel Buildings
The prospects for expansion in the pre-engineered metal building industry boggle the mind.  The system works so well for almost every low-rise structural application.
For commercial buildings, agricultural buildings, aircraft hangars, industrial and manufacturing facilities, retail centers, office buildings, steel warehouses, or metal buildings for personal use, prefabricated metal buildings fit the bill perfectly.
There is literally no end to the possibilities for sales, so I count the unlimited opportunities of the pre-engineered steel building marketplace as a blessing.
Blessing #5:  The Patronage of RHINO Steel Building Customers
No matter how strong and durable our metal building products, we would not be successful without the support of our customers.
I am so very grateful to all the clients who have placed their trust in us by places orders with RHINO Steel Building Systems.
I especially appreciate the loyal RHINO customers who honored us with their return business— and recommended our company and steel buildings to their friends, family, and associates.
In the past 12 months, happily returning previous steel building buyers and those they referred to us have generated 39.1% of our new orders.  A special thank you to each and every one of you.
Blessing #6:  The RHINO Steel Building Specialists and Staff
I am so blessed by the devoted, dependable, and dedicated people working here at RHINO Steel Buildings Systems.  Our RHINO Team takes pride in our steel building products– and in their own performance.
Most of our staff members have been with RHINO for ten years or more.  I so appreciate all their hard work, attention to detail, camaraderie— and their willingness to go the extra mile for the company and our customers.
I could not ask for a better group of employees and friends.  I am especially grateful that my son Mat, for the eight years, has worked here at RHINO.
Count Your Own Blessings
Whatever your own profession, take a few minutes this Thanksgiving to count your own career blessings, and to appreciate your business and your co-workers.
May you and your family have a blessed and wonderful Thanksgiving!
Please call 940.383.9566 at any time if we here at RHINO metal buildings can be of assistance.