Comparing the Various Insulation Materials
Choosing the right steel building insulation for your particular application and location can be tricky. Let's take brief a look at some of the insulation options available.
To Insulate or Not to Insulate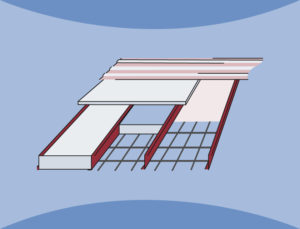 First, determine if your new prefab steel building requires insulation. Refer to our recent blog Do You Need Metal Building Insulation?
You may also find this blog helpful: What Does Insulation R-value Mean?
STEEL BUILDING INSULATION OPTIONS
The initial cost and long-term effectiveness of the different steel building insulation materials varies. (RHINO only offers batt insulation or our High R Insulation Package.):
Loose-fill: Loose fibers or pellets are blown into the wall cavities, using specialized equipment. Chemically treated shredded recycled newspapers, fiberglass, and rock wool offer three blown-in insulation choices. Blown-in insulation tends to be the more expensive choice, but seals well, especially in the corners. A separate radiant barrier is recommended.
Spray Foam: A polymer, combined with a foaming agent, sprays into steel wall and ceiling cavities. A liquid when released, the mixture expands quickly, drying into a solid mass of air-filled cells. While much more expensive than batt insulation, spray foam— when expertly applied— fills every tiny crevice, reducing air leaks.
Rigid Board: Fiberglass, polystyrene, or polyurethane formed into stiff boards creates another insulation choice. Easy to install, rigid board insulation trims easily to precisely fit the available space. Rigid board works particularly well on flat roofs, and is a superior soundproofing material. However, be aware that some local building authorities require additional flame-retardant facing for rigid-board insulation, such as half-inch gypsum board.
Batt: When correctly installed, processed rock wool or fiberglass batts provide the most bang for your insulation buck. Economical and effective, fiberglass batts remain the most popular choice for metal building insulation. (Batts are also known as "blanket" insulation.)
Vapor Barrier: Acting as a moisture retardant, a vapor barrier helps protect insulation. The less moisture permeates the vapor barrier material, the greater its protection. Required to be fire-retardant, a high-grade vapor barrier adds another layer of fire-resistance to a steel building.
The Pro-Value Insulation System
RHINO Steel Building Systems combines three of the best insulation choices into one highly effective metal building insulating system.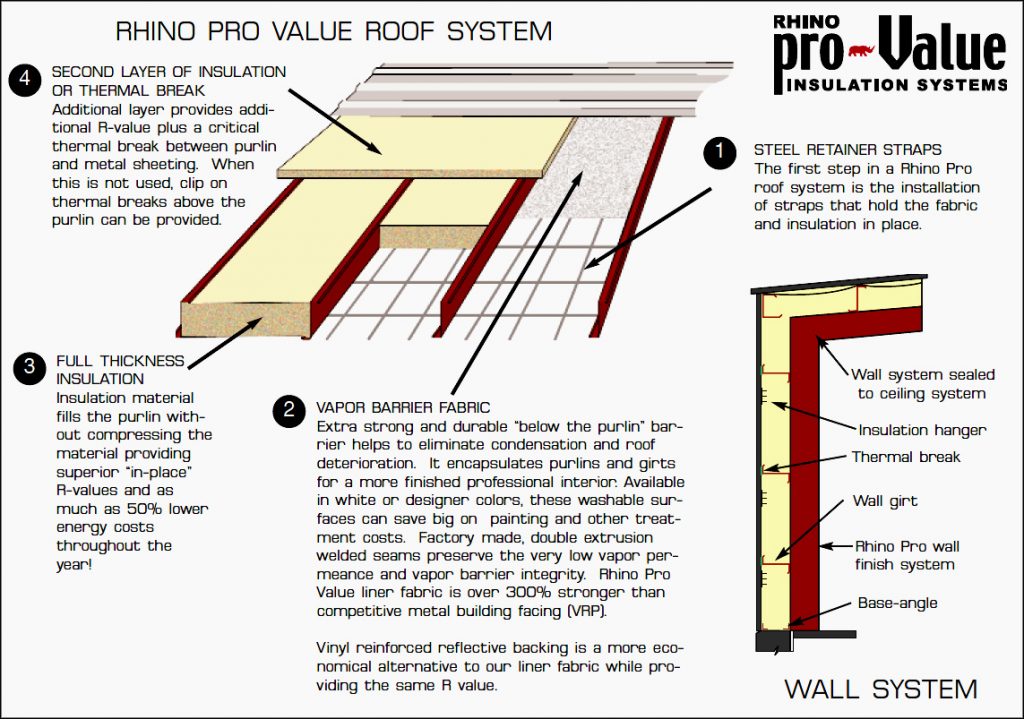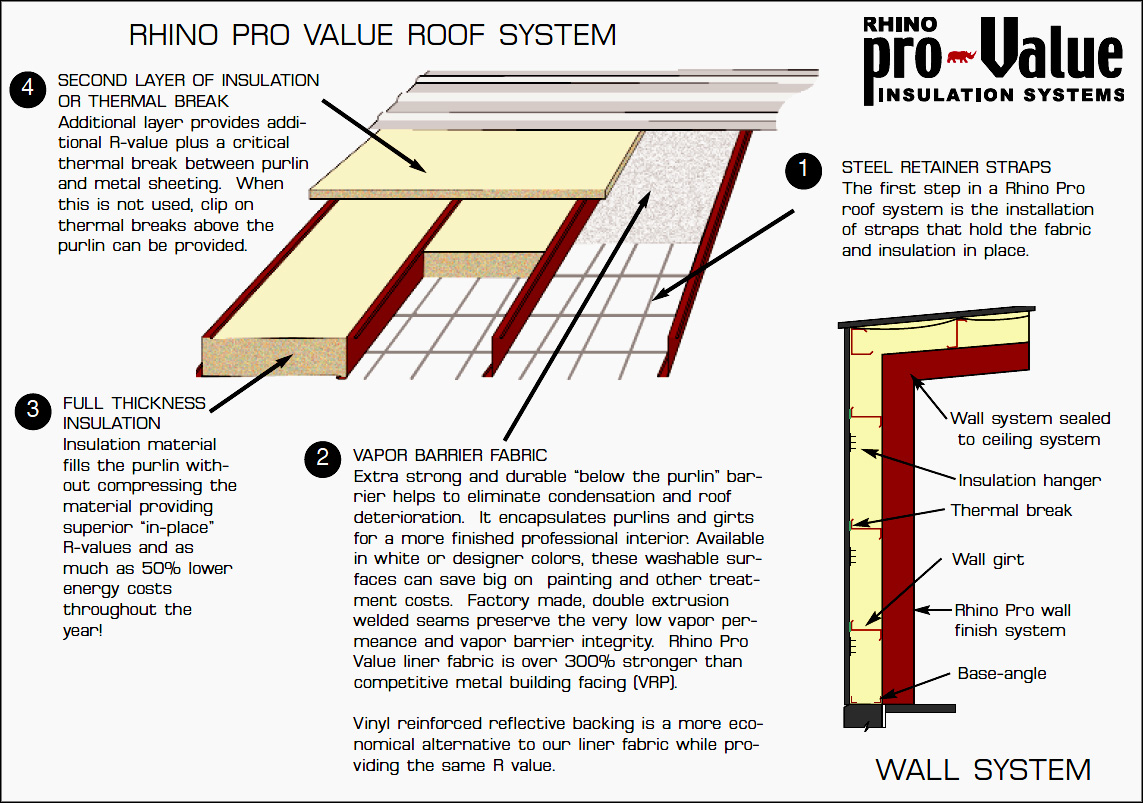 Our "Pro-Value" package starts with economical fiberglass batt insulation. Insulation hangers keep the batt insulation firmly in place. A second layer of insulation creates a thermal break, increasing the overall R-value. Completing the package is a heavy-duty washable fabric vapor barrier, held in place with durable steel retaining straps.
We have found that 67% of our clients choose to include insulation with their steel building order. Most people using the Pro-Value Insulation Package report savings around 50% on their heating and cooling costs.
Bring all your steel building insulation questions to the experts at RHINO. Call RHINO today at 940.383.9566 for full details about our pre-engineered metal buildings and insulation for metal buildings. Get a free RHINO quote on your next construction project.