Vetting a Metal Building Company
All steel buildings are not created equal. The same can be said of metal building companies and contractors. Buyers must thoroughly compare construction companies and examine contracts before signing.
How to Find Reliable Contractors for Metal Buildings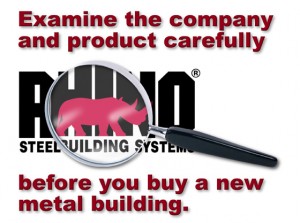 When you're trying to find local contractors, you need to be ready with a list of questions. To accurately compare construction companies you must get all the information you can. Here are a few suggestions of questions for examining a steel building company and its product. We've provided the answers for RHINO Steel Buildings as examples.
What type of steel building system is it?
There are five basic types of "steel" buildings:
ARCH buildings are Quonset-style structures. They were invented in World War II as a cheap temporary military structure that could be moved easily.
WEB TRUSS buildings use zigzag-shaped steel truss systems. Birds love to nest in web trusses. Typically, these systems do not include framing materials for the endwalls. The sheathing is usually thinner than that used in quality pre-engineered metal buildings.

WELD-UP framing

employs smaller rigid-steel components or steel pipe to create framing in the field. Each part must be cut and welded on the job site, one piece at a time, by professional welders.
LIGHT-GAUGE metal buildings simply substitute cold-formed steel studs for traditional wood studs. All the steel must be cut-to-length and assembled with screws at the job site— a labor-intensive process.
PRE-ENGINEERED steel buildings consist of commercial-grade I-beams. Prefabricated at a factory, all building parts arrive cut, drilled, punched, painted, and marked for assembly. The framing goes up quickly and easily, like a giant erector set for grown-ups. RHINO Steel Building Systems supplies only pre-engineered steel buildings.
Are there size limitations with this building system?
RHINO's systems allow unencumbered, clear spans up to 300-feet wide. With minimal interior columns, buildings span up to 480-feet in width. Pre-engineered steel buildings like RHINO can soar 40 feet or more at the eave height. There are no restrictions at all on the building's total length.
What kind of exterior panels are included?
RHINO buildings come with heavy-duty 26-gauge Purlin Bearing Rib (PBR) steel panels as standard. When you're trying to find a good contractor, avoid metal building companies that use weaker "R" panels, which do not fully overlap. Corrosion-resistant Galvalume® coats all RHINO steel panels for ultimate protection, and RHINO offers standing seam metal roofing and cool-coated panels, too.
Does the framing price include hardware?
RHINO includes heavy-duty steel bolts, nuts, and top-grade extended life self-drilling screws with EPDM washers. Only the foundation bolts are not included, as the concrete contractor buys those locally.
How long has the metal building manufacturer been in operation?
When comparing construction companies, it's good to find a contractor that has been in business for a few years with a strong reputation. RHINO Steel Buildings has been in business since 1998.
Where is the main headquarters located?
RHINO's sales offices are in Denton, Texas.
Do they have an experienced staff?
Want to know how to find a good contractor? Look to the staff. You do not want to deal with inexperienced salespeople who can't answer your steel building questions. RHINO's professional steel building specialists have an average tenure of over 13 years in the metal building business.
What is the company's rating with the Better Business Bureau?
RHINO earns an A+ score with the BBB, the highest possible rating.
Can the building materials be shipped by the steel building construction company from a nearby source?
RHINO ships all across the U.S. — indeed, all across North America — from multiple factories to assure the lowest possible freight charges.
Does the metal building manufacturer offer a warranty with its buildings?
Find a contractor with a warranty! RHINO guarantees in writing that the steel framing will meet or exceed all current local building codes for the LIFETIME of the structure.
Does the company offer references?
A reliable contractor will have strong references to back up their work. In the past year, returning customers — and those they referred to RHINO — accounted for over 35% of sales. RHINO also supplies references upon request.
Why RHINO Stands Out from the Common Herd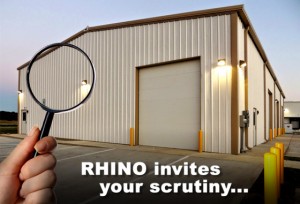 When you compare construction companies, there's a lot to consider. RHINO-tough buildings include many features that are unavailable or considered upgrades by other metal building companies. Why pay more for what is already included in the RHINO standard building package?
Look at all the benefits in a standard RHINO metal building package:
Prefabricated commercial-grade, rigid steel framing, ready to assemble

Pre-welded girt and purlin

clips

to speed up construction time

26-gauge, high-tensile PBR (Purlin Bearing Rib) wall and roof exterior steel panels (instead of the cheaper, thinner 28-gauge or 29-gauge steel "R" panels supplied by most competitors)

Colorful steel building trim, including door and opening trim

High-strength bolts and nuts and long-lasting cast zinc aluminum self-drilling screws with EPDM washers for a rustproof, waterproof seal

Formed base trim that eliminates panel rust

Die-formed

ridge caps

to match PBR steel panels shape for a perfect fit along the roof ridge (instead of cut-rate, unattractive flat ridge caps that leak air and moisture along the roof peak)

Additional steel framing for one door opening up to 30' wide — at no extra charge

Extra waterproofing features

like closure strips and mastic tape

3 sets of plans, plus an anchor-bolt plan

An official Letter of Certification stamped by an engineered licensed for your state

A complete checklist of everything in the RHINO steel building package

A detailed Construction Manual and a Construction DVD

Outstanding service, going above and beyond to make ordering and constructing simple and hassle free
Test Our Metal
Want to know how to find a reliable contractor? Talk to RHINO Steel. At RHINO, our goal is to deliver the best possible steel building at the best possible price — on time and on budget.
Call the metal building company you can trust. Contact RHINO at 940.383.9566.