How Green Metal Buildings Save Money and the Environment
While the green benefits recycled steel building kits are impressive, they are probably not going to be the greatest motivators for you to choose metal buildings.
In theory, we all agree saving the planet is noble and grand.  However, when push comes to shove, cost and convenience drives us more than the nebulous attributes of an eco-friendly building material.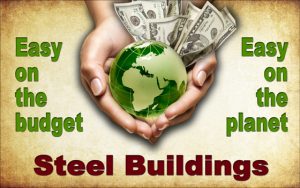 But what if you could have both? What if you could make the "right" green choice for the planet and still save money on construction supplies and operating costs?
You can have the best of both worlds with a pre-engineered metal building kit!
How Recycled Steel Building Kits Benefit You
Let's bottom line the main benefit metal buildings provide for you: they save you MONEY!
Costs less to buy
Pre-engineered metal buildings are surprisingly affordable.  How is that possible?  It is simple: efficiency.
The steel industry has streamlined the steel production process to the max.  Today's steel is 30% stronger than the steel produced even ten years ago.
Automation in steel production has also dramatically increased efficiency.  Today a ton of new steel is produced in less than an hour!
New sophisticated design and engineering computer programs assure your kit meets all local building codes.  Therefore, new steel designs provide the strongest possible structure with the least amount of steel, keeping costs at a minimum.
Innovations have also increased the efficiency in the production of the individual steel framing components.  Each piece of the kit meets strict tolerances and industry standards.  Every item in the framing is cut, welded, punched, painted, marked for identification, and inspected by quality-control professionals.
The adeptness of the steel building delivery system saves money, too. Your kit ships directly to your job site from the nearest factory, holding shipping costs to a minimum.
Costs less to build
Surprisingly, steel building kits weigh less than other conventional framing materials.  Less weight means less concrete is needed for a firm foundation.  Hence, steel building foundations cost less.
Thanks to the extraordinary strength of steel, metal buildings require very few pieces and building supplies to construct a stout structural frame. And thanks to the pre-engineered design and manufacturing process, steel building kits arrive ready to assemble.  Consequently, these kits bolt and screw together quickly and easily.
RHINO Steel Building Systems slash erection time by about 33%, cutting costs for a professional framing crew.  Do-it-yourselfers who erect their own building with a few friends save even more.
Costs less to own
 Recycled steel building kits lower lifetime ownership costs seven ways:
With top-of-the-line insulation products like RHINO's Pro-Value System, today's steel building kits cut energy expenditures in half.
Most insurance companies offer substantial discounts to fire-resistant, commercial-grade steel buildings.
Long-lasting, easy-care metal buildings require very little upkeep and even fewer repairs.
Steel buildings hold their good looks and value far longer than other building systems.
There is no need for expensive termite treatments on a steel structure. Even fierce Formosan termites cannot make a meal of steel!
Inorganic steel never molds or outgasses, enhancing indoor air quality, productivity, and comfort.
Metal buildings also cost less to remodel and expand.
How Recycled Metal Building Kits Benefit Our Planet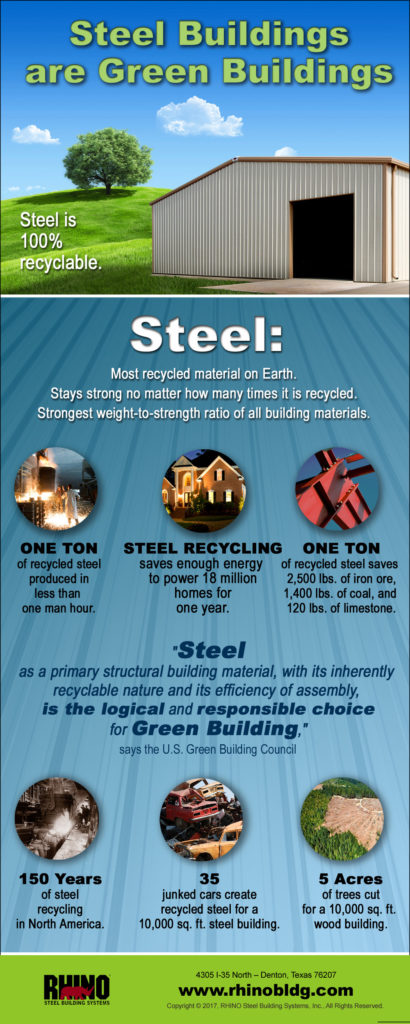 So what constitutes a "green" building?
By definition, a green building saves energy, promotes healthier indoor air quality, and has less impact on the environment.  That's why eco-friendly "green" building starts with recycled steel framing.
The U.S. Green Building Council calls steel framing "the logical and responsible choice for Green Building."  The Leadership in Energy and Environmental Design (LEED) only awards steel buildings with an automatic minimum default on its green point system.
Steel is 100% recyclable.  Unlike other recycled materials, steel never loses any of its strength during recycling.  Steel can be recycled countless times, and still be as strong as virgin steel. No other eco-friendly building material can make that claim!
Our steel buildings serve decades longer than other types of structures. The longer any structure lifecycle, the less impact it has on the environment.
At the end of a concrete or wood building's usefulness, the owner pays dearly to have demolition rubble removed to a landfill. However, steel building owners actually profit at demolition by selling the steel as scrap. Recycled once again, discarded steel continues to live on in cans, cars, bridges, ships, major appliances, or railroad tracks.  The recycled might even become another steel building!
RHINO Steel Building Kits
So now you know that steel is the best deal for you, your pocketbook, and your planet.  Why would you want to build any other way?
Start planning your metal building project today!
Chat with a knowledgeable metal building specialist at RHINO about your upcoming building project.  Call now at 940.383.9566. 
Also, be sure and ask about RHINO's new HyperBuiltTM recycled steel building kits and about the RHINO specials available today.