What Could You Do with 2,400 sq. ft. of Unobstructed Space?
RHINO's 40 x 60 metal buildings adapt easily to so many different end uses.
Aviators, farmers, ranchers, real estate investors, small business owners, manufacturers, and homeowners all love our 40 x 60 metal buildings.  They have discovered that this versatile, mid-sized building beauty offers the most bang-for-the-building-buck for many needs.
The 40×60 Steel Building: RHINO's Sweet Spot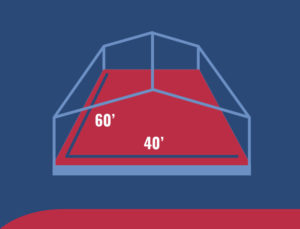 Every business has a "sweet spot"— the one product or service that seems to best fit the needs and budget of the largest number of their customers.  At RHINO Steel Building Systems, our "sweet spot" is the 40 x 60 steel building kit.
So why is the 40-foot x 60-foot steel building size so popular?  Well, there are several answers to that question.
The number one reason is that the 40 x 60 metal building kit price is especially economical.  You simply get more building for your budget in this size range.
Certainly, smaller buildings cost less overall.  However, the 40-foot wide pre-engineered framing produces a lower cost-per-square foot than smaller structures.  In fact, regardless of the length, the 40-foot-wide clear span steel frame creates the ideal amount of open space with the least amount of steel.
While larger structures may produce an even lower cost-per-square-foot, their greater size goes beyond the needs of many projects.
Another reason that 40 x 60 metal buildings remain so popular year after year is the versatility of that size.  The same framing, with minor cosmetic changes, exactly suits so many building needs.
Single Use Applications for 40 x 60 Metal Buildings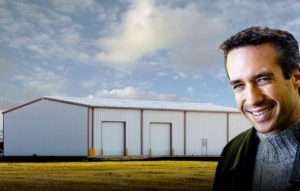 There really is no limit to the possibilities for this 2,400 clear span gem.
Here are just a few ideas for the single-purpose use of a 40 x 60 building kit:
AGRICULTURE: Barns, equipment storage, hay sheds, livestock shelters, stables
AVIATION: Hangars, aircraft shade shelters, aircraft park hangars, aviation offices
COMMERCIAL: Retail stores, offices, specialty shops, auto repair shops, tire stores, and more
INDUSTRIAL: Smaller manufacturing plants, warehouses, machine or welding shops
INVESTMENT: Real estate leasing property for industrial parks, offices, warehouses, etc.
PERSONAL: Barndominiums, boat storage, RV garages, storage buildings, man-cave (or woman-cave), hobby shops, mother-in-law apartments
RESTAURANTS: Dine-in/carry-out restaurants, coffee shops, burger joints, sandwich shops, etc.
VENUES: Mid-sized wedding and party venues or banquet facilities
Mixed-Use Metal Buildings
Many people find this 2,400 square foot size allows room for a mixed-purpose structure.  For example, you might want half the structure to be a garage and use the other half as a shop.  Alternatively, you might carve out one portion for your favorite hobby and use the remaining area as extra storage.
The mixed-use possibilities for a 40 x 60 metal building are limited only by your imagination!
How a 40 x 60 Metal Building Kit Adapts to Changing Uses
Because the steel framing is completely self-supporting, the building interior of a RHINO 40×60 steel building is column-free.
A clear span structure frees the building owner to create any floor plan needed— and to change that floor plan as desired.
This easy floor plan adaptability rates high with real estate investors, because their properties often need to be remodeled as new renters arrive.
In addition, prefabricated steel buildings do not have to look like metal buildings.  RHINO's structures adapt easily to any exterior style you desire, including brick, stone, stucco, wainscoting, glass, and tilt-up concrete.
Order a RHINO 40 x 60 Metal Building Today
The majority of our 40 x 60 metal building orders call for a 12' or 14' eave height.  However, be advised that any height— even 40' or more— is possible with RHINO structures.
Should you need more than 2,400 square feet of space— but have a lot that limits the base size— you might consider making your 40 x 60 structure two-stories tall, adding a steel mezzanine flooring system.
Conclusion
RHINO's number one selling structure is the 40 x 60 metal building kit because of its low cost per square foot and its ability to adapt easily to so many different uses.
Order Your Own RHINO 40 x 60 Steel Building Now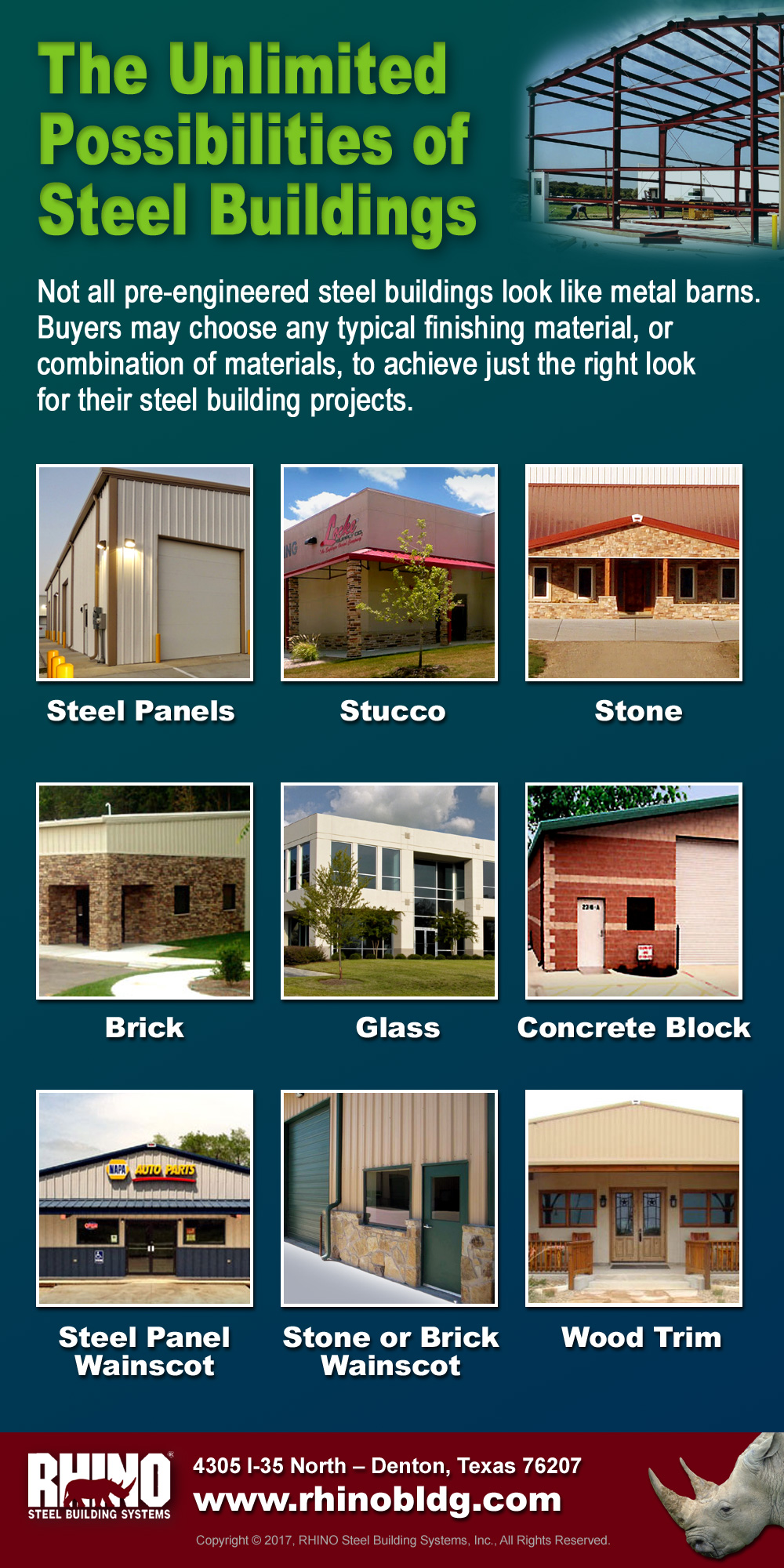 Talk to a RHINO metal building advisor today at 940.383.9566 for more information and a quick quote on your upcoming building project.  They can help you choose the accessories and options that best fit your project and your budget.
These experienced professionals will help you determine the best size for your needs and get you a fast, free steel building kit quote.
(Updated 4-7-2021.  Originally published 4-24-2018.)