This year has been wonderful here at RHINO Steel Building Systems, filled with record-breaking milestones and company firsts.
Once again RHINO received the highest sales award from our steel supplier— our eighth time in nine years to garner that particular prize.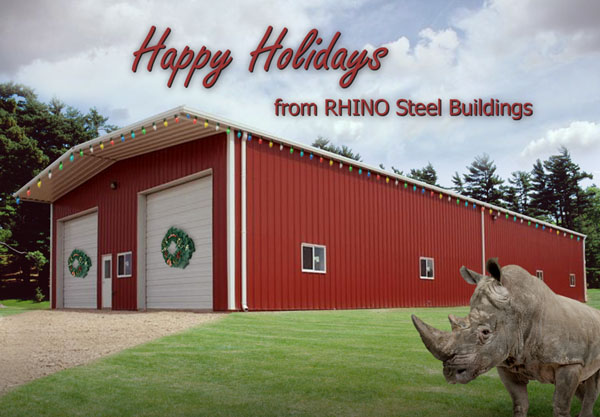 This year we also shipped the largest building in our history to date— a single-story building so large it required a convoy of 30 trucks to deliver the framing and support materials.  It was also the largest steel order ever filled by our raw material supplier.  This massive manufacturing facility contains over 127,000 square feet, and boasts a 42' eave height.
We also celebrated our 14th anniversary in the metal building business in 2012.
After months of research, planning, and hand-wringing, we launched our new RHINO website in September of this year, which now includes a steel building blog.
In spite of a hard year which included derecho-strength winds, heavy snowfalls, shattering tornadoes and electrical storms, and the overwhelming devastation caused by Superstorm Sandy, we have received only one report of insignificant "damage" to single RHINO steel building.  (See "RHINO Metal Building Survives Derecho and Hurricane Sandy" for details.)
Sales have been great— thanks to those of you who have honored us with your RHINO prefabricated metal building orders and repeat orders, and by referring our products to your friends and families.  Thanks to you, we have earned a 30% repeat and referral rate during the past 12 months.
Here at RHINO, we are grateful for the loyalty and devotion of our customers.  We will continue to do everything possible to be worthy of that trust in the coming year.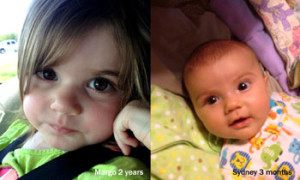 Best of all, on June 10th this year my son Mat and his wife Jessica blessed me with another beautiful, healthy granddaughter named Sydney Grace Brown.  Her sister Margo is my other incredible grandchild.  It doesn't get any better than that!
Yes, 2012 was a fantastic year at RHINO.  And we are expecting 2013 to be even better.
Call RHINO now for quotes on any upcoming building projects.  ARHINO steel building specialist will give you a fast, friendly quote and answer any questions you may have about RHINO and our metal building products.  Check the RHINO Photo Gallery and the current RHINO Steel Building Specials, too.  Then call us at 940.383.9566 .
May we wish you a magnificent,
memory-filled, heart-warming holiday season…
and may 2013 be a year filled with love, joy, peace, and prosperity
for you and your family.