Building and Leasing Industrial Metal Buildings for Profit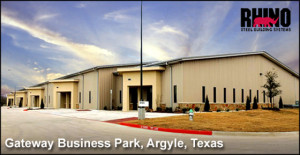 Perceptive investors often choose to include steel industrial buildings as part of their real estate holdings.
There are two main reasons: 1) industrial buildings produce significant revenue; and 2) steel industrial buildings promise the most bang for the buck.
Why Choose Industrial Buildings as Income Producing Properties?
Investors find the industrial market offers many advantages over commercial or residential real estate options. An industrial property:
Provides a steady, predictable income stream
Typically requires a smaller initial outlay than other real estate investments
Involves longer contracts with tenants that other real estate rentals, creating less turnover and less time with the property unoccupied
Usually supplies higher returns on investment than in residential properties
Appreciates more over time, increasing the owner's net worth
Allows you to deal with other business people on a professional level
Has tenants with a vested interest in keeping the property clean and attractive, for their own company image
Requires less intensive management than residential real estate
Is traditionally a much less volatile market than commercial and residential markets
Provides the opportunity sell the property later for a great turnaround profit
Generally enjoys zoning restrictions far broader than other types of real estate properties, allowing more flexibility
Building a Solid Investment with the Strength of Steel
Whether you plan to build a single industrial structure or an entire business park, pre-engineered steel buildings are the best choice. In fact, steel claims an astonishing 95% of the industrial building market. It is easy to see why.
Steel buildings provide many advantages to industrial projects over other building methods. Pre-engineered steel industrial buildings are:
Versatile to accommodate a variety of industries
Simple to remodel and adapt when changing tenants
More flexible with larger spans, lengths, and heights than other building methods
Faster to erect for lower construction costs and quicker occupancy
Stronger to combat high winds, heavy snows, and damaging earthquakes
More resistant to fire, lightning, mold, and termites
Less expensive to insure
Extremely cost-effective to build and to maintain, requiring little upkeep
An eco-friendly building choice— steel is the most recycled material on our planet
Super energy efficient— when combined with upgraded insulation options
Versatile, with exterior options including steel panels, brick, block, stucco, stone, tilt-up concrete or EIFS
Preferred by industrial tenants; steel buildings are seen as the safer and greener choice
Long-lasting, retaining value and appearance for decades longer than other construction methods
A greater resale value
Why not add revenue-generating steel industrial buildings to increase your earnings?
Call RHINO today at 940.383.9566. We can discuss the advantages of steel industrial buildings in more detail.
RHINO's metal building specialists will answer any questions, offer valuable information on our metal building products, provide a free no-obligation quote, and take you through the ordering process.