Receding an Exterior Wall Changes the Look of Metal Buildings
In Part 4 of our series on "Steel Buildings: Think Outside the Box" we covered adding pop-out sections of framing. Pop-outs protrude outside the main structure, breaking up the boxy look of pre-engineered steel buildings.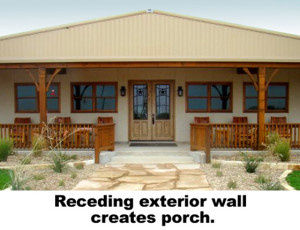 Another way to add visual interest to a metal building is to do the exact opposite. Instead of extending an exterior wall, consider receding an exterior wall, sort of a "pop-in" section.
Practical Reasons for Indenting an Exterior Wall
The exterior wall of pre-engineered metal buildings can end at the last frame of the structure, or at the next-to-the-last frame. In fact— with minimal additional framing— the exterior wall can be placed anywhere in between frames.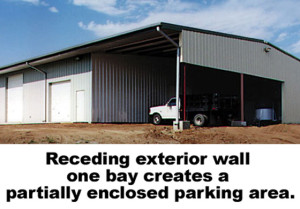 For example, you might want a deep porch under rafter. Or perhaps your commercial business needs a corner entrance under rafter to protect clients in inclement weather.
Agricultural buildings and shops often include a protected outside area under rafter to store hay, equipment, or vehicles out of the weather. Personal storage building, workshops, or multi-vehicle garages might encompass an under rafter area for a boat, RV, or camp trailer.
Stylish Reasons for Indenting an Exterior Wall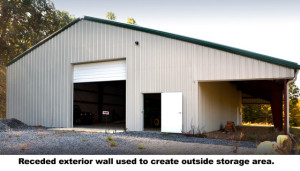 Beyond practical considerations, indenting a wall also changes the profile of a structure. Receding a wall helps adds visual interest. It is an easy and economical way to add personality to a structure. Commercial enterprises may find this especially helpful.
Suppose you want to add a "down-home" look to your new barbecue restaurant. Indent the exterior wall to create a country porch under rafter. Add an old-fashioned porch rail, a few hanging flower baskets, and some ladder-back rocking chairs, and you have an entrance that catches the eye and invites customers to come in.
Create a covered storefront, protecting customers from sun, rain, and snow. They may comfortably take their time gazing at attractive displays in your display windows, enticing them into your establishment.
Many business find adding an angled wall under rafter for their entrance to be both stylish and practical.
The Bottom Line: You Have Unlimited Choices
This "Think Outside the Box" series offers simply, practical, and economical ideas to add pizzazz to your steel buildings. Use any or all of the ideas in this series to create the perfect metal building for your application.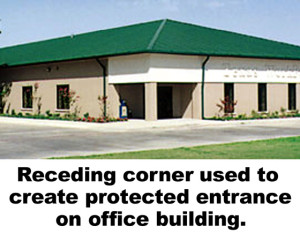 If you can dream it, we can supply it. Let your imagination run wild with these metal building ideas!
Farm and ranch buildings, commercial buildings, aviation structures, industrial and warehouse buildings— RHINO has the answer. Pre-engineered steel buildings are the strongest, safest, smartest way to fulfill every low-rise structural need.
Get started today. Call RHINO right now at 855.269.3632 for more information on metal building ideas.
Don't miss our next segment in this series on steel homes!