Steel Buildings in North America
Steel buildings are the perfect structure for any kind of climate or terrain, making them ideal for all of North America. RHINO's American steel buildings ship anywhere in the U.S., as well as to Canada and Mexico.
Steel Buildings Across Climates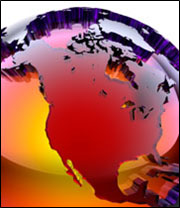 Whatever the weather, RHINO steel buildings are built to last. Snow, wind, rain, extreme heat, tornadoes, earthquakes, and more don't stand a chance against a RHINO building. Our American metal buildings can be specified to meet any local code for snow loads, wind loads, or seismic loads — for the lifetime of the structure.
Is your climate humid? Mold can thrive in humid conditions and be disastrous for a building. Wood buildings are very susceptible to mold, but RHINO steel buildings are made of inorganic material where mold cannot grow.
What about dry climates? Dry areas face major threats of fire, and wood buildings are consumed by any blaze. But steel is fire-resistant and RHINO's buildings meet all local fire codes.
In addition to handling all kinds of weather, steel buildings protect against termites and other pests, making American metal buildings the right choice for any city.
North American Steel Buildings For Every Need
Over the years we have encountered almost every construction situation imaginable for our metal buildings in North America, so we are well prepared to handle your every need in constructing:
Pole Barns in North America
Steel Warehouses for North America
Steel Industrial Buildings in North America
Steel Church Buildings for North America
North America Steel Aircraft Hangars
Recreational Buildings for North America
Prefabricated Steel Buildings in North America
Metal Garages in North America
North America Metal Storage Buildings
North American Indoor Horse Arenas
Steel Commercial Buildings in North America
Agricultural Steel Buildings for North America
Metal Barns in North America
No matter what kind of building you are looking to create, we can do it. We've mastered the steel building business and we can help you design a building that fits your every need.
The Rhino Difference
Our qualified metal building specialists have extensive experience with American metal buildings. They will take your initial concept and develop the structural design that best fits your needs. They'll assist you in choosing the accessories and options that best enhance your metal buildings for the U.S., Mexico, and Canada. A RHINO steel building can be designed to meet any local challenge!
We can ship prefab American metal buildings directly to your job site from one of our multiple points across the U.S. RHINO has resale certificates for all 44 states in the U.S. which charge sales tax.
Call today and discuss your building project with one of our friendly building specialists, and experience for yourself The RHINO Difference in American metal buildings. In the U.S. call: 940.383.9566 for full details, a free estimate, or for information about our American metal buildings. From Canada or Mexico, please call 011.940.535.7258.