Steel Buildings in Kentucky
Why is RHINO Steel Building Systems the best option for steel buildings in Kentucky? Our durable steel can handle all four seasons, our prefab building kits make optimal horse arenas, and our customer service is second to none.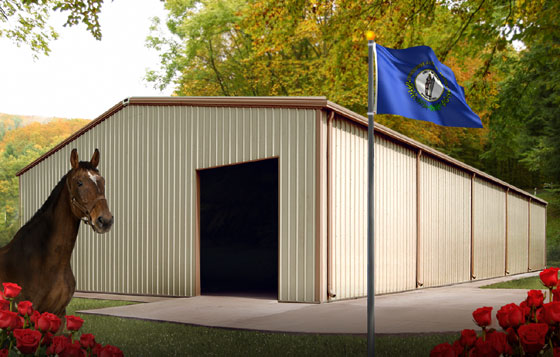 Kentucky Steel Buildings for Every Season
Kentucky is one of the few states that truly sees every season. From snowy winters to warm summers, Kentucky steel buildings must be able to withstand all kinds of weather.
How do RHINO's steel buildings cut the cold? Our many roofing options include slick coatings that help ice, sleet, and snow slide off the building to avoid accumulation. Shunning gutters prevent ice dams, and most importantly, we have multiple insulation options to keep your Kentucky metal building warm. Our Pro-Value Insulation Package is the perfect option for steel buildings in Kentucky, and it even increases energy efficiency to cut energy bills by 50%!
RHINO's high-quality insulation helps with summer heat, too, utilizing thermal breaks and extra-strength vapor barriers to keep the interior of your building cool.
Metal Buildings for Kentucky Horse Country
Kentucky is known as horse country, with horse farms all across the state. RHINO's steel buildings are perfect for stables and horse arenas. Covered arenas are durable and quick to assemble, and enclosed arenas provide climate control to allow for riding in all seasons. For steel buildings in Kentucky horse country, you can rest assured that RHINO's strong steel will keep your horses safe and sound.
The RHINO Difference
If you're looking for metal buildings for sale in Kentucky, look no further than RHINO Steel. We provide high-quality buildings, but take it a step further with our top notch customer service.
Our metal building specialists have worked on every type of building and can help you design the perfect Kentucky steel building to meet your needs.
In fact, 30% of our orders are from repeat customers and referrals — once you experience the RHINO Difference, you keep coming back again and again.
Call us today at 940.383.9566 to get started on your metal building in Kentucky.