Building for the Weather Extremes of the Hoosier State
Steel buildings in Indiana deliver strength and durability. Those traits uniquely fit a place where volatile weather extremes threaten property— and lives.
Metal Buildings in Indiana and Lightning
The dangers of lightning are sometimes overlooked when considering a building material. That can be a deadly mistake.
Lightning strikes Indiana almost 600,000 times each year. In the U.S., Indiana ranks 12th in lightning fatalities.
Insurance companies shell out nearly $1 billion annually for property damages caused by lightning.
When struck by lightning, building materials containing moisture like wood and concrete can explode. Wood is a poor conductor of current. Lightning striking a wood-framed structure usually ignites wood— or flashes out into nearby objects, animals, or people.
Steel is a great conductor. In a well-grounded metal building, the lightning passes through the framing and harmlessly into the ground.
Steel Buildings in Indiana and Snow
Along Lake Michigan, lake effect storms dump heavy snows across northern Indiana. Structures there must stand up to the crushing loads of wet, heavy snows. Snow weights vary on moisture content. A cubic foot of snow weighs between 7-20 pounds.
RHINO's Indiana steel buildings are guaranteed to meet or exceed all local building codes— including codes for snow on roofs— for the lifetime of the structure.
Metal Buildings in Indiana and Winds
In recent years, strong straight line winds of almost 100 MPH damaged trees and structures in the Hoosier state. These sometimes deadly storms, called "derechos," tear through the state cutting a path of destruction.
Derechos swept through Indiana on June 18, 2010 and again on July 11, 2011. On June 29, 2012 a derecho wind storm formed in northwest Indiana, before streaking across several states in a 600 mile long path of destruction. On July 11, 2013, another derecho pushed across central Indiana, inflicting incredible property damages and power outages for 3.7 million people.
Steel boasts the strongest weight-to-strength ratio of any building material. Metal buildings are pre-engineered to make maximum use of steel's strength.
As with snow, RHINO metal buildings promise to meet or exceed all local building codes throughout Indiana— including wind loads. For added protection, you may choose even higher loads than required for your area.
Steel Buildings in Indiana and Tornadoes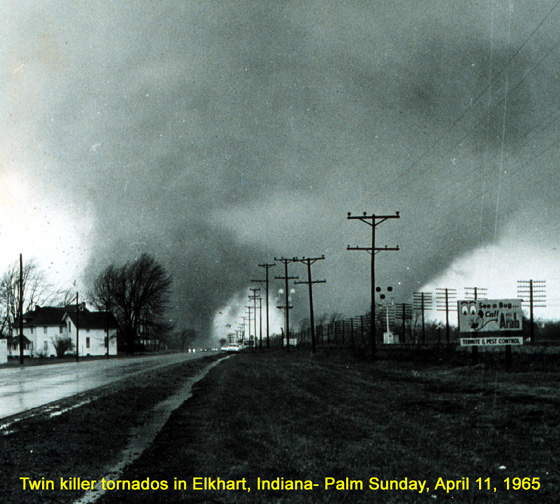 Although not part of "tornado alley," Indiana remains a high-risk state for twisters. Indiana experiences an unusually high incidence of tornadoes.
Many Hoosiers still remember the Palm Sunday tornado outbreak. Countless homes, businesses, and lives were destroyed on that April Sunday in 1965. A total of 47 tornadoes whipped across six states.
Indiana took the largest blows, with 10 tornadoes killing 137 people, injuring over 1,200.
Ten times since 1990, tornado outbreaks hit Indiana with 10 twisters or more ripping across the state. In June 1990, 37 tornadoes shredded Indiana in one deadly burst of storms.
In a state prone to such violent storms, choosing the strongest building system possible is the only logical choice. That choice is steel, specifically steel metal buildings for Indiana.
Metal Buildings in Indiana for Every Use
Adaptable and economical, RHINO steel building systems work well for every building project:
• Agricultural buildings and metal barns
• Aviation structure and steel hangars
• Commercial buildings and offices
• Equestrian buildings and riding arenas
• Industrial and manufacturing facilities
• Medical clinics
• Multi-car, RV, or boat garages and storage
• Multi-purpose structures and self-storage facilities
• Outdoor pavilions
• Recreational facilities
• Residential hobby houses or storage buildings
• Restaurants
• Retail outlets
• Steel warehouses and big box stores
Hoosiers can expect to receive a RHINO metal building to their Indiana job site within 4-7 weeks of the order. RHINO ships all metal buildings for Indiana from the nearest factory, reducing shipping costs.
Call RHINO Today for the Best Deal in Steel Buildings
Learn more about the reasons pre-engineered steel buildings are the strongest, safest, smartest way to build in Indiana— and elsewhere.
Call now for a free brochure, a free quote, or more details about RHINO-tough metal buildings for Indiana, the state at the crossroads of America.
Call to learn about steel buildings in Indiana: 940.383.9566.