Pre-engineered Metal Buildings Rock in the Centennial State
From the plains in the east to the mountaintops of the Continental Divide, no other building system meets the challenges head on like RHINO steel buildings in Colorado.
The more you know about the benefits of RHINO's Colorado metal buildings, the more you will agree nothing else compares. RHINO is quite simply the strongest, safest, speediest, and smartest construction method for the state.
RHINO-Tough Metal Buildings in Colorado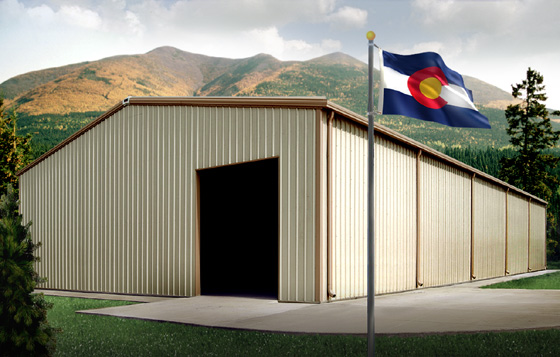 Colorado's terrain varies as much as 11,123 feet from its highest to lowest points. Consequently, weather varies dramatically across the state.
Urban and rural areas also present unique building challenges there.
Prefabricated RHINO Colorado steel buildings are a perfect fit.
FIRE: Recent years of drought radically increased wildfire danger in Colorado. In the first decade of this century, an average of 2,500 wildfires a year erupted in the state.
In 2012, over 4,000 wildland fires racked up an estimated $538 million in property loses.
The Royal Gorge Bridge and Park was one of the most popular tourist stops in Colorado. It is home to the highest suspension bridge in the U.S., which towers 955 feet above the Arkansas River. But in 2013, the park burned to the ground when a wildfire swept through the area. Only the steel bridge itself survived the conflagration.
That same month the Black Forest Fire— the most destructive wildfire in the state's history— scarred the over 14,000 acres. Property losses exceeded $300 million.
Choosing a Colorado steel building for construction just makes sense. While no structure is fireproof, non-combustible steel-framed buildings offer far better protection than wood-framed structures. Not only is steel framing never the point of initial ignition in a structural fire, but it will not add fuel to a fire like wood framing does.
Many insurance companies give substantial discounts to structures framed with commercial-grade steel because they are so fire resistant.
SNOW: Crushing snowfalls in the higher elevations and severe blizzards in the lowlands sometimes plague Colorado. In December 1913, 45 inches of snow buried Denver. Ninety years later, a March blizzard dumped 32 inches of snow on Denver, running up over $33 million in insurance claims. Blizzards and large snowstorms have dumped 17 inches to 30 inches of snow over the area many times in the years between these two historic storms.
Every one of RHINO's Colorado metal buildings meets or exceeds all local building codes, including snow loads. If even greater protection is desired, higher loads beyond the building codes are available.
WIND: While occasional high winds are possible anywhere, Colorado's terrain makes it prone to Chinooks. These violent winds— recorded in excess of 100 mph— descend quickly from the high mountains, raising temperatures as much as 40 degrees Fahrenheit in an hour.
Surprisingly, Colorado ranks seventh in the U.S. in tornado activity. While not rare in Colorado, twisters there are generally weaker than in parts of the country, with winds up to 130 mph or so.
However, anomalies like the Windsor tornado of 2008, do occur within the state. The most destructive tornado in Colorado history, this EF3 twister was over a mile wide and slashed along the ground for 39 miles. The National Weather Service estimated the winds in this storm to be as highs as 150 mph.
Nails and staples pull out of wood framed structures under high-wind stresses. Connections fail and the roof lifts from the building. Walls collapse. The stronger bolt and screw connections of pre-engineered steel buildings in Colorado make them far less likely to experience damage from high winds.
As with snow loads, RHINO steel buildings in Colorado meet or exceed any local wind loads. However, even stronger loads are available upon request.
EARTHQUAKES: Colorado experiences minor earthquake shocks, mostly around the Rocky Mountains. Although earthquake data for the state is relatively recent, a Denver earthquake in 1882 is believed to be the strongest in the state's history. Experts estimate the quake to be approximately 6.6 on the Richter scale, based on newspaper accounts of the destruction. The trembler was felt as far away as Salt Lake City, Utah, and Salina, Kansas.
RHINO metal buildings in Colorado bring an additional level of confidence to their owners. The seismic ratings for our metal buildings are the highest available.
TERMITES: While you would normally expect termites to afflict humid, coastal areas, the Rocky Mountain State unfortunately suffers from the little wood-gnashing creeps, too. Native to Colorado, subterranean termites are a common enemy at the lower elevations. Urban areas in the state are most at risk from termite damage.
A RHINO metal building in Colorado stops termites in their tracks. What termite can make a make a meal of steel?
SEASON: In the higher elevations, weather extremes can make the Colorado building season very short. Builders must operate within a narrow window of opportunity.
RHINO steel buildings in Colorado reduce construction time by 33% or more. All RHINO metal buildings are prefabricated in factories across the U.S. Everything arrives at the job site ready to connect and erect, quickly and easily.
RHINO Steel Buildings in Colorado: Versatile and Economical
We can create a RHINO prefabricated metal building package for any low-rise application in Colorado:
• Agricultural /Farm /Ranch Buildings and Barns
• Aircraft Hangars and Aviation Structures
• Automotive/ Mechanic/ Welding Buildings
• Church Buildings
• Commercial Buildings
• Garages/ RV/ Boat Storage Spaces
• Industrial/ Manufacturing Buildings
• Office Buildings
• Recreational Buildings
• Restaurants
• Storage Buildings
• Suburban Hobby or Residential Accessory Structures
• Warehouses
If you can dream it, we can design it.
Hooked on RHINO
RHINO provides first-class service before, during, and after the sale. Our satisfied, busy customers come back to RHINO time and time again.
For affordability, durability, flexibility, and ease of construction, a prefabricated RHINO metal building in Colorado is the ideal choice.
Discover what the RHINO Difference means. Learn more by calling 940.383.9566.