Why Small Box Stores Prefer Steel Framing
Dollar stores have become a bargain-hunters nirvana. Budget-conscious consumers drive the dollar store market, carefully searching for the best deals on everyday necessities, gifts, and undiscovered specialty items,
Big Box vs. Small Box Retailers
Until recently "big box stores" received far more attention by the press than the smaller dollar stores. However, do not let the smaller size of these mighty midgets mislead you. Growing at a phenomenal rate, these "small box stores" are quickly outpacing the retail giants in numbers.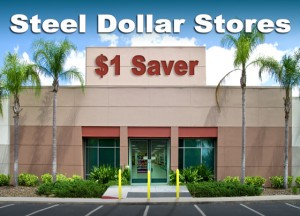 So what's the difference between big box stores and small box stores like dollar stores?
Big box stores generally encompass 100,000 square feet or more. The typical dollar store contains a mere 5,000 to 7,200 square-feet. (Some chains are now experimenting with super-sized dollar stores from 10,000 to 16,000 square feet.)
Dollar stores found their niche in recent tighter economic times— and they are quickly becoming a mainstay in the U.S. economy. As many of these deep discount retailers added groceries to their arsenal, dollar store sales boomed.
Dollar stores continue to increase their market share bite by bite, nipping at the heels of retail giants like Walmart and warehouse clubs like Costco. Offering cutthroat pricing and around-the-corner availability, these savvy retailers now challenge even the long-established convenience store retailers.
Check the facts:
• Walmart, the top of the mega-sized retailers, operates just over 5,300 stores in America.
• Convenience store giant 7-11 now operates 8,378 stores in the U.S.
• Dollar General now boasts over 13,000 locations in the U.S. — and the company expects to open another 1,000 stores in 2017.
• Family Dollar operates over 8,200 stores across America. The Dollar Tree recently acquired Family Dollar, giving Dollar Tree a combination of 13,000 locations across the U.S.
• Experts estimate the total number of U.S.-based dollar stores to reach 30,000 by year's end.
• Dollar store sales topped 27 billion last year.
Dollar for Dollar, Steel is the Best Buy
Small box retailers like dollar stores choose pre-engineered metal buildings systems for the same reasons as other commercial operations: steel offers the most bang-for-the-buck.
Making Every Square Foot Count: In a deep discount operation, every square foot of space must be productive to keep costs low and prices down.
While most dollar stores carry a certain amount of staple items, the bulk of sales come from a constantly changing array of merchandise. Fluctuating stock creates a greater need for floor plan flexibility for dollar stores than for traditional retailers. Dollar stores depend on displaying new merchandise quickly— and moving it out the door just as quickly.
Clear span steel buildings offer the greatest flexibility for small box commercial businesses like dollar stores. Metal buildings provide complete floor plan freedom, without the awkward interior columns and load-bearing walls necessary in other building systems. With RHINO's steel retail store construction, merchants can arrange and rearrange merchandise rapidly, making room for new items on the fly.
Faster Move In: Pre-engineered steel building systems provide super-fast construction. The quicker at new store goes up, the sooner revenue start pouring in.
Steel buildings arrive with all the pieces prefabricated and ready to erect. All the framing goes up speedily and easily, almost like a giant life-sized version of a kid's erector set.
RHINO steel retail store construction kits, for example, shorten construction time by 33% or more.
Low Cost to Build and to Run: Economically priced RHINO pre-engineered metal buildings deliver a low cost-per-square-foot structure.
Steel buildings require little maintenance, saving on upkeep. The fire-resistant properties of steel invoke deep discounts from most insurance carriers, cutting insurance costs. A well-insulated steel building— like one using the RHINO Pro-Value Insulation System— chops heating and air conditioning bills by 50%, trimming the operational expenses even further.
Environmentally responsible steel promises green building at its best. As the most recycled product on the planet, steel leads the way in green building materials.
Another Day, Another Dollar Store
Are you planning to open a dollar store or other small-box retail site? Call RHINO now. Our experienced, professional steel building specialists freely answer all your questions and provide product and accessory details. They will share money-saving construction and design tips to bring your project in at the best possible price.
Huge distribution centers and warehouses for chain retailers benefit from the RHINO steel Building Systems too.
RHINO transports steel building materials from multiple shipping points across U.S. We deliver commercial and industrial metal building packages— on time and on budget—to anywhere in North America.
Learn more today about retail store construction. Contact RHINO Steel Building Systems at 940.383.9566.