Why Steel Buildings House Auto Parts Operations
No other construction system matches the advantages of prefab metal buildings for auto parts businesses.  In fact, that's why steel dominates all commercial and industrial building today.
Why Choose Prefab Metal Buildings for Auto Parts Businesses
Why should the auto parts industry be interested in steel buildings?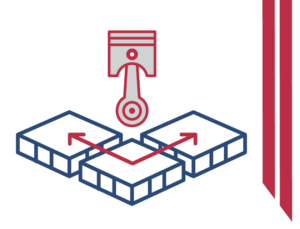 Because their market, like many others, is changing rapidly.  Here are two reasons why:
Old Car Maintenance:  Today's drivers keep their cars far longer.  Shockingly, the latest estimates show the average age of automobiles on U.S. roads today is 11.8 years.
These aging clunkers need new parts to keep them running smoothly.  Consequently, auto parts are in great demand.
So how is that affecting auto parts sales?  Overall, sales for auto parts, accessories, and car care products should top $57 billion in 2019.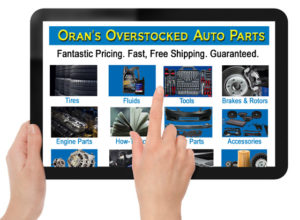 Online Sales Boom:  Convenience drives the market today.  Therefore, consumers now go online to find most of their needs.  So why not shop for car parts online?
Consequently, storefront sales are shifting to online sales.  Moreover, to stay competitive, auto parts stores are expanding to include online sales.
Amazon alone expects to rake in $8 billion in auto parts, accessories, and car care products, according to automotive marketing agency Hedges & Company.
Online sales for 2019 should reach $12.3 billion.  Hedges & Company predicts online auto parts and accessory sales to climb to $19 billion in 2022.
About 39% of those sales will ring up in auto parts stores.  However, even in retail sales, 90% of the customers conduct research online before they head to the nearest auto parts store.
Booming Business = Expansion:  As auto parts operations scramble to meet the demand, they will need larger stores, warehouses, and fulfillment centers.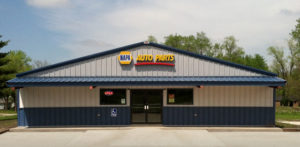 Therefore, they turn to steel.
To keep profit margins healthy, the building's maintenance and operating costs need to be low.  Pre-engineered steel buildings last longer, retain their value better, and require less care than other building systems.
Steel Buildings Costs Less
Commercial steel buildings for auto parts businesses just make sense.  Steel structures provide the best long-term investment.
First, metal buildings for auto parts operations are extremely economical:
Cost-Efficient to Buy and Build:  Historically, steel prices are far more stable than other building materials, making pre-engineered metal buildings (PEMBs) a great buy for any business.
Also, using prefab metal buildings for auto parts businesses save time.  And time is money in any business.
RHINO steel framing kits save time by arriving already cut, welded, drilled, painted, marked, and ready to go.
Our kits are like an adult version of a kid's erector set.  Therefore, PEMBs need fewer people for construction, cutting labor costs.
PEMBs go up fast, too.  That saves even more labor costs— and lowers the builder's insurance costs, too.  In fact, PEMBs cuts construction time by about 33%.
Attractive Exteriors:  Long-lasting, colorful steel panels work well for most auto parts businesses.  However, fitting into a neighborhood "look" is important in some commercial locations.
Fortunately, a PEMB may use any typical building exterior.  Brick, stone, glass, stucco, or tilt-up concrete may grace prefab steel buildings for auto parts stores.
Floor Plan Freedom:  Steel's superior strength permits a PEMB to span great distances without interior columns.  In fact, PEMBs routinely clear spans 100', 200', or even 300' wide.
All retail and warehousing businesses appreciate floor plan flexibility.  Organizing merchandise is much simpler with no interfering columns.
Clear span metal buildings also allow frequent merchandise rearrangement.  That lets the business owner or warehouse manager easily adapt to the constantly changing ebb and flow of auto parts stock.
PEMBs Cost Less to Own
Cost-Efficient to Operate:  Adding a premiere insulation package nets big energy savings.
In fact, prefab metal buildings for auto parts stores or warehouses that use RHINO's Pro-Value insulation package slash energy costs in half.  In hotter climates, optional reflective "cool steel panels" cut energy use even more.
In addition, metal buildings require little maintenance.  Easy-care metal buildings save many maintenance hassles— and lots of upkeep money.
As a fire-resistant material, commercial-grade rigid steel earns lower insurance rates with most carriers.
Moreover, quality-made steel buildings hold their value and good looks decades longer than wood-framed buildings.  That makes commercial metal buildings a great long-term investment.
Economical Expansion:  As businesses grows, so can their metal buildings.  PEMBs expand easily and economically by adding additional steel bays to either endwall.
Prefab Metals Buildings are Built to Last
Consistent Quality:  Manufactured to precise industry tolerances, prefab steel buildings for auto parts businesses assure verifiable strength and consistent quality.  You will never find such consistency in wood or concrete structures.
Strong Connections:  The nails and staples used in today's wood buildings loosen over time.  The frame loosens.  The structure shifts, sags, and settles.  Doors and windows stick.  Corners bend.  Sheetrock cracks.  Floors start to creak and groan.
Rigid steel-framed buildings use high-strength bolts and self-drilling screws.  A RHINO metal building assembles straight and plumb— and stays that way for the structures lifetime.
Strong Protection:  An auto parts building protects the owner's inventory— and their employees— in natural disasters.  PEMBs provide the strongest possible protection from Mother Nature's tantrums.
Nothing is stronger than steel.
Consequently, metal buildings stand up to extreme weather challenges like lightning, fire, wind, termites, mold, snow, earthquakes, and normal aging much better than other building systems.
Conclusion: The Best Building Deal is Always Steel
Using commercial metal buildings for auto parts stores and warehouses saves money, time, and long-term operating costs.
RHINO Delivers Top-Quality Steel Structures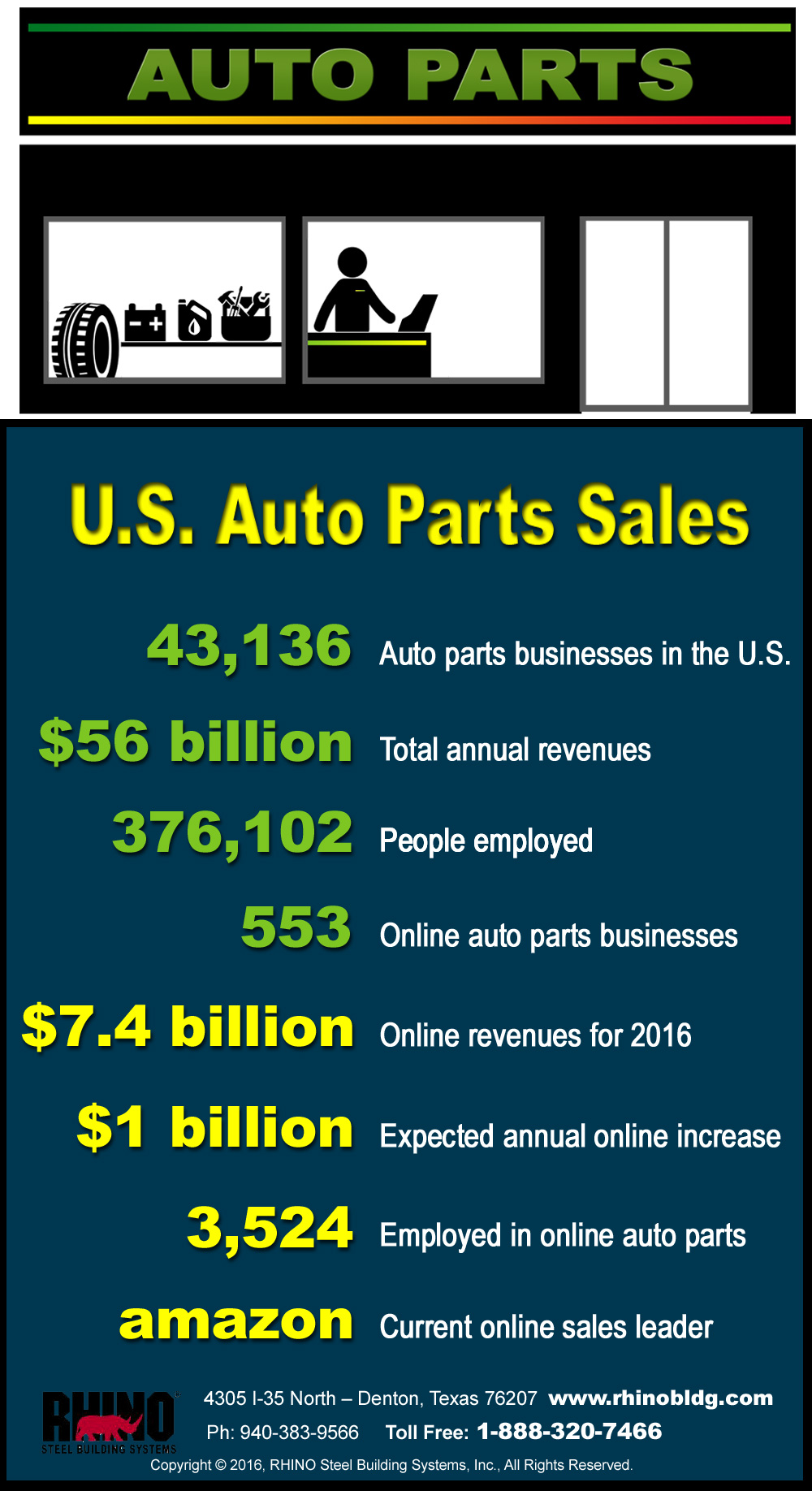 A prefabricated RHINO metal building is the ideal choice for all commercial applications, including:
Warehouses for auto parts and accessories
Auto parts stores
Online auto part fulfilment centers
Every RHINO building also bears the stamp of a structural engineer licensed in your state.  That ensures the structure meets or exceeds all current building codes and loads requirements— for the lifetime of the building!
Find out more about the practical, innovative, and versatile RHINO PEMBs.
Call RHINO now at 940.383.9566.  Learn what the RHINO Difference could mean for your auto parts store or other building project.
(Updated 6-19-2019.  Originally published 12-16-2016.)