Five Reasons to Choose Metal Buildings for Mini-malls
Steel building strip malls shine as a new generation of shopping and service experiences. Today's upscale mixed-use shopping centers include an eclectic mix of retailers and service industries.
Smaller strip malls— with 5,000 to 10,000 square feet— still serve in residential neighborhoods or smaller towns. However, the growing trend is toward larger retail centers of 100,000 square feet or more. In moderate-sized towns, mid-sized shopping plazas tend to be a hybrid of these two extremes.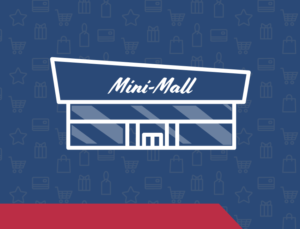 Most of the shopping and service businesses leasing space in mini-malls today are internet-resistant. Consequently, they become long-term tenants for shopping center investors. For example, a typical strip center today might include any of the following:
Bakeries and donut shops
Big box stores
Bookstores
Boutiques
Dollar stores
Dry cleaners
Family entertainment centers
Fast food restaurants
Financial advisory firms
Fitness centers
Grocery stores
Hair salons
High-end coffee shops
Insurance companies
Jewelry stores
Local banks
Mattress shops
Mattress stores
Medical out-patient clinics
Medical testing facilities
Nail salons
Pet stores
Small restaurants
Smartphone shops
Specialty shops
Wise real estate investors build pre-engineered metal building strip malls. Here's why:
#1: Metal Building Mini-Malls are Cost-Effective
The success of any real estate investment depends on keeping building budgets low and the return-on-investment high. The extreme efficiency of metal buildings keeps building costs— and operating costs— under budget.
Steel's incredible and verifiable strength allows fewer pieces to create an extra strong structure. This efficient material use makes prefabricated metal buildings very economical for the purpose of strip mall construction.
Moreover, steel buildings save on overhead in three ways:
Steel's fire-resistant qualities earn much lower insurance premiums.
Well-insulated metal building strip malls slash heating and cooling bills in half.
The ultra-low maintenance of steel buildings cuts costs even more.
#2: Steel Building Strip Malls Customize Easily
Mini-malls need to adapt quickly to the specific needs of incoming tenants.
The obstruction-free floor space of clear span steel buildings makes remodeling a snap. In fact, only steel creates column-free space up to 300' wide.
In addition, prefab metal building strip malls also expand easily to add space as needed.
#3: Metal Building Retail Centers Open Quickly
The quicker a mini-mall opens, the sooner rental money starts coming in. Since steel buildings erect fast, renters can move in very quickly.
The factory-made components of steel buildings cut construction time by about 33%.
#4: Metal Building Mini-Malls are Versatile
A profitable retail center needs two things. The first is a high-traffic location. The second necessity is an attractive design that fits in well with the surroundings.
Creating an appealing exterior attracts quality tenants and higher rents for you, as well as paying customers for your renters. That's why steel buildings supply a competitive edge to investors.
Today's steel buildings can be finished in any combination of common exterior materials. Finish your retail center in stucco, brick, stone, cement-fiber board, or glass to achieve the look you want.
#5: Steel Building Strip Malls Stand the Test of Time
Attractive, well-kept steel mini-malls draw long-term tenants. They also entice new renters to your investment.
The durability of steel buildings is impressive. Steel never warps, splits, shifts, twists, burns, molds, or feeds termites.
Metal structures stand up against Mother Nature's tantrums, too. Pre-engineered steel buildings also carry extra damage resistance against winds, rains, and earthquakes.
Steel's greater strength and lower maintenance also keep a metal mini-mall looking great decade after decade. Therefore, astute investors count on steel buildings to hold their resale value better than other structures.
RHINO Mixed Retail Shopping Centers
Speak to a RHINO steel building specialist now at 940.383.9566 about strip mall construction. Let us supply you with a free quote on your steel building strip mall or other commercial building project.
Also, follow us on Facebook to learn more about The RHINO Difference in steel buildings.