Color: The Fun Way to Customize Your Steel Building Kit
You can make your next construction both functional and fantastic by choosing from an array of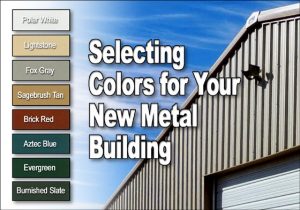 vivid metal building colors.
Does your application warrant a pristine polar white or a cool Aztec blue?  Perhaps you prefer a saucy brick red with a fox gray accents?  Or would your project look best with sagebrush tan with evergreen trim?
Whatever your color scheme, you will find what you need to match it or complement it with RHINO's delectable colors.
RHINO's Standard Palette of Metal Building Colors
Our 26-gauge standard exterior steel panels are available in more than 18 eye-popping colors.
But beyond just being attractive color choices, these sturdy precision roll-formed steel panels bear high-quality painted finishes.
Each corrosion-resistant Galvalume® panel is first coated with an oven-cured primer.  A finishing glossy color coating of premier silicone-polyester paint then follows.
RHINO's die-formed ridge caps— included as part of the standard package— match your roof color choice.
Unlike some of our competitors, RHINO also includes steel trim for all doorways— and at no additional cost.  You choose whether to match the trim to your wall color or to your accent color.
Adding Dashes of Color
To "dress up" your structure, consider adding wainscot steel panel trim in a color contrasting your wall color choice.
You may also choose matching or contrasting colors for RHINO's optional gutters and downspouts.
Exterior Panel Options
RHINO also offers upgrade exterior panels in an array of color choices. For coastal areas, where salt spray exists, we recommend Kynar® coated panels to resist salt corrosion.
For customers living in hotter climates, we also offer reflective cool-coated steel panels.  Speak to a RHINO Steel Building Specialist for more details about cool-coated panel specifications and color choices.
RHINO: Colorful Steel Panels and More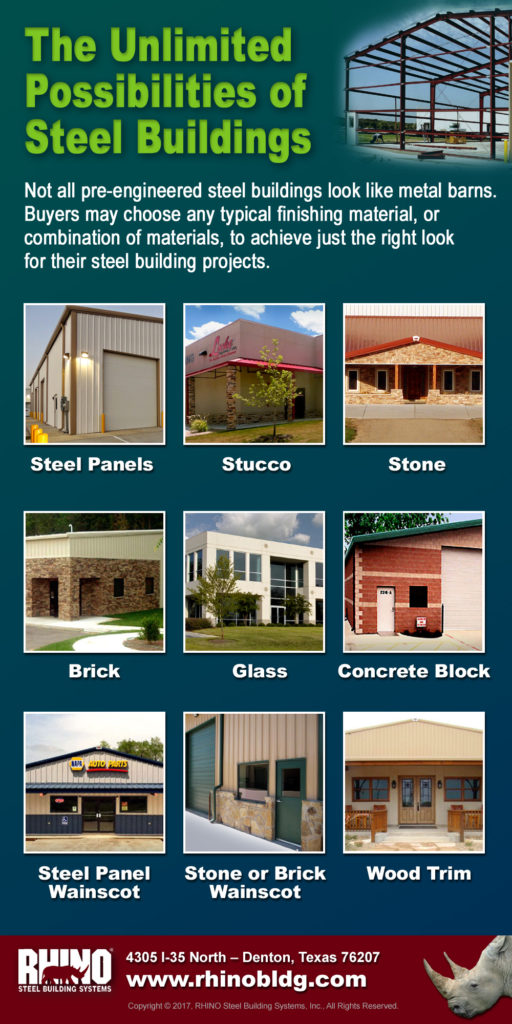 Of course, our colorful steel panels are not the only exterior choice for RHINO Steel Buildings.  Our structures can be finished in any common exterior building material, including glass, stucco, stone, brick, block, cement board siding, wood, or even tilt-up concrete.* Whatever the exterior look you need, you get exactly what you want with a steel building.
Because of the low maintenance associated metal building panels, many customers combine colorful metal building panels with stone or brick wainscot.
Ask a RHINO metal building specialists about all the metal building colors and options available.  Call 940.383.9566 now.  You will be glad you did!
*Not provided by RHINO.