How Metal Buildings Meet the Criteria for Gym Construction
In our last post, we examined some of the special challenges of school gymnasiums. This post shows why pre-engineered steel buildings meet the criteria for school gyms better than any other building method.
Steel: the Smart Choice for School Gymnasiums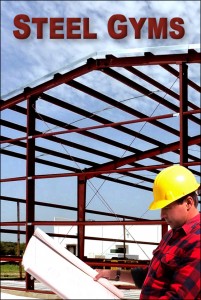 Let's study the factors unique to school gym construction, point by point:
FULLY USABLE SPACE: As with aircraft hangars and warehouses, gymnasiums require unrestricted use of space. Steel boasts the greatest strength-to-weight ratio of any building material. Steel easily spans immense spaces. Clear span metal buildings require zero interior columns for extra bracing.
(Larger prefab gym buildings with huge clear spans structures are not even possible with other building materials.)
ADAPTABILITY: Since most school gyms serve multiple sports and functions, adaptability of space is crucial. Clear span steel buildings supply incredibly flexible use of space now— and in the futures as needs may change.
CAVERNOUS AREA: Pre-engineered steel buildings easily span up to 300'. There is no limit at all to the building's length. Steel buildings typically allow up to 40' eave heights on a basic, standard order. Even higher prefab gym buildings are possible with additional engineering.
LIMITED BUDGET: Pre-engineered steel structures are surprisingly economical for school gymnasiums. Steel gyms may save as much as 30% over traditional building methods.
Steel's strength means fewer framing components are needed to build a very solid sports facility. Fewer pieces mean less weight. Lighter framing requires less concrete for the foundation, saving money.
Shipping the prefab gym building materials from the closest factory reduces shipping costs.
OPERATING BUDGET: The deeper walls created by commercial steel's thick columns allows the use of thicker insulation in metal-framed school gymnasiums. RHINO's Pro-Value Insulation cuts heating and cooling expenses by 30% or more. Choosing reflective cool steel panels drops utilities another 7% or more.
The fire-resistant qualities inherent in commercial-grade steel buildings earn sizable discounts with most insurance carriers.
As an inorganic material, steel does not promote mold, mildew, or termite problems, eliminating expensive treatments or repairs. Steel buildings require very little maintenance other than annual rinsing and cleaning out the gutters.
TIGHT TIMELINE: Steel's strength means far fewer pieces are need to erect a highly stable gym. Because all the framing components arrive at the job site already cut, welded, drilled, painted, and marked for identification, assembly goes quickly, normally saving 30% on construction time.
EXPANSION: As a school system grows and expands, so can their steel sports facility. Gym expansions are quick and inexpensive. Adding addition steel bays at either endwall is simple and cost-effective.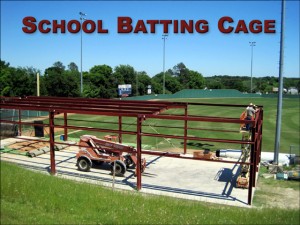 SAFETY: Steel school gymnasiums and other buildings offer built-in resistance to damage from gale-force winds, lightning, rain, seismic events, snow, and termites.
GREEN BUILDING: Steel is the only building material that can be recycled endlessly and not lose any of its strength. Steel is the most recycled material on earth. At the end of a school gym's usefulness, the steel framing is sold to a recycler to live on again as another steel product.
Choosing reflective cool roofing panels not only cuts operating costs, but also helps lessens the urban heat island effect plaguing many cities in warmer climates.
EXTERIOR DESIGN: Designers of school facilities may choose brick, glass, stone, stucco, tilt-up concrete, wood, or colorful steel panels to create the exterior look they need.
RHINO: A Gym-Dandy Building System
RHINO incorporates many premium features into their standard building packages. We call these benefits The RHINO Difference.
RHINO prefab gym buildings are guaranteed to meet or exceed all the local building codes for which the building is designed— for the LIFETIME of the structure.
Call RHINO now at 940.383.9566. One of our steel building specialists will be happy to discuss your upcoming school gymnasium or other school, church, or community building project. Quotes are fast, free, and accurate.