Phase 4 Completed at the Industrial Park in Denton, TX
Last year we told our readers about the RHINO Business Park under construction. At that time, phase one and phase two were completed, while phase three was beginning.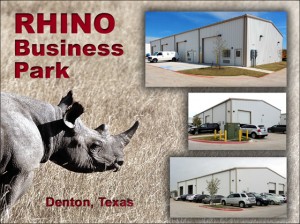 Located in Denton, Texas, the RHINO Business Park offers a prime location just off the business loop from Interstate-35.
Two Latest Additions to the RHINO Business Park
The RHINO Business Park now includes two new structures completed earlier this year.
The first building is a 58' x 120' x 20' divided into four identical rental units. Each section has a 12' x 12' office space plus restroom and contains 1,740 sq. ft.
The second structure measures 63' x 120' x 20'. It too divides into four sections with built-in offices and restrooms. These units each cover 1,890 sq. ft. of space.
We used, of course, our own premiere RHINO Steel Building System for all the new structures in the development. Features offered included:
• 20-foot eave heights
• 8-foot tall steel interior wall panels
• Fire sprinklers
• Free Verizon FIOS
• Gutters and downspouts
• Heating and air conditioning
• Insulated 12-foot by 14-foot overhead doors with electric door lifts
• Landscaping
• Paved and marked parking
• R-19 roof insulation and R-13 wall insulation
• 220-volt electrical power plus gas heaters
Gratifyingly Successful Venture
All of the structures in the RHINO Business Park leased quickly. The prime location and the versatility of the pre-engineered steel buildings made the park a win/win for both the tenants and the project owner.
Developing industrial parks takes patience and perseverance. Working with city officials can be a daunting process. Nothing seems to move along as quickly as we would like. However, we have found the rewards greatly exceed the challenges.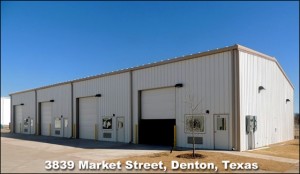 There is a great satisfaction in being a part of the project, seeing the buildings complete one-by-one. Certainly, there are financial rewards as the buildings lease out. However, the greatest satisfaction comes from the appreciation of the tenants themselves.
Call RHINO Today!
Whatever your next commercial or industrial building project, you will find RHINO Steel Building Systems offers the best deal in steel.
RHINO's buildings are tough, hard-wearing, and eye-catching. They hold their value and good looks far longer than other building methods. RHINO framing is guaranteed to meet or exceed all current local building loads for the lifetime of the structure.
RHINO steel buildings work great well for any low-rise structural application including:
Agricultural structures like barns, livestock shelters, equipment storage, and hay sheds
Automotive or truck dealerships, repair shops, and machine shops
Aviation structures like aircraft hangars and shade shelters
Churches and other houses of worship
Commercial buildings
Equestrian structures like indoor riding arenas, covered pavilions, and horse stables
Industrial structures like manufacturing plants, warehouses, and oilfield structures
Office buildings
Recreational buildings like pavilions, indoor sports arenas, indoor pools, ballrooms and dance studios, or bowling centers
Retail buildings like restaurants, shops, strip shopping centers, and big-box stores
Self-storage buildings and mini-warehouses
RHINO's prefabricated buildings are also a "green" building choice, made with a high recycled steel content.
The deep wall cavities created by the steel framing provide room for much thicker insulation. With the optional Pro-Value Insulation Package, a RHINO building may cut heating and cooling bills by as much as 50%.
The RHINO building system also includes additional water-resistant features unavailable with many other metal building systems.
Learn more about what The RHINO Difference can mean for you. Call RHINO today for fast, friendly, expert assistance and a free quote.
The RHINO number is 940.383.9566.