The Benefits of Metal Buildings for the Badger State
Pre-engineered steel buildings in Wisconsin grace the landscape. No other building method offers the strength, durability, and ease of construction afforded by prefabricated metal buildings in Wisconsin.
The Badger State really digs steel buildings— especially in winter.
When the weather outside is frightful…
This winter has been one for the record books across the Northeast, including Wisconsin. Annual snowfall amounts generally vary from 40-50 inches across the southern part of Wisconsin. Sixty to 160 inches or more may fall over Wisconsin's Lake Superior Snowbelt in an average year.
That's all changed this winter.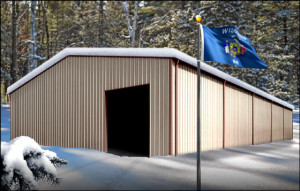 Unprecedented snowfalls buried the Badger State very early this season. Mother Nature dumped over 73" of snow on Gile, Wisconsin in just nine days— and before Thanksgiving, no less! Snowplows worked tirelessly, digging out narrow traffic lanes in Gile, creating walls of snow 15' to 20' in height.
Depending on the consistency, snow weighs anywhere from 7 to 25 pounds-per-cubic foot. Exceptionally wet snow with an icy base might weigh out as much as 45 pounds-per-cubic-foot or more.
Buildings with inadequate snow loads cannot withstand such intense pressure. Many structures collapse under the strain.
RHINO steel buildings in Wisconsin meet or exceed all local building codes— for snow and all other loads— for the LIFETIME of the structure. (Given the increasing amount of snow falling in recent years, buyers might even consider ordering snow loads beyond what is locally required.)
Let it snow, let it snow, let it snow…
RHINO buyers of Wisconsin metal buildings appreciate the energy-saving properties of Pro-Value Insulation Package, too.
When temperatures plummet below zero in Wisconsin winters, Pro-Value's extra-thick layers of batt insulation— combined with thermal break insulation and a durable vapor barrier— keep the structures snug and warm.
Andy's Deli built a sausage and delicatessen store in Endeavor, Wisconsin— a 28,000 square foot project using RHINO steel buildings with Pro-Value insulation. After the structures were completely enclosed, construction continued inside the building over the winter. "The buildings were so well insulated with the Pro-Value insulation that we never had to heat the building all winter. Honestly, it was unbelievable," says Jacek Zak, special projects director for Andy's Deli.
Get hooked on RHINO
RHINO steel buildings in Wisconsin are:
Affordable.
Durable.
Environmentally preferred recycled steel.
Extremely energy-efficient when using Pro-Value Insulation, slash energy bills in half.
Open and unobstructed.
Practically maintenance free.
Quick to erect.
Versatile in end use and appearance.
Very resistant to damages from fire, winds, snow, lightning, termites, mold, and earthquakes.
The possibilities for pre-engineered metal buildings in Wisconsin are virtually endless.
Imagine great breweries framed with steel in Milwaukee. Perhaps some sturdy steel aircraft hangars are needed in the Madison area. Green Bay commercial developers might choose pre-engineered metal buildings in Wisconsin for business parks, warehouses, restaurants, or manufacturing plants. In Kenosha, local congregations will love the soaring, open spans created by steel buildings for their churches or ministry buildings. In Racine and Appleton areas, storage buildings, office buildings, or factories can all be built with steel framing.
Farmers and ranchers find nothing beats metal buildings in Wisconsin for great dairy barns, horse stables, riding arenas, and equipment storage structures. Rural residents always need more space supplied by steel-framed multi-purpose garages, home offices, or storage buildings.
Whatever your low-rise construction project, you will find the RHINO steel buildings in Wisconsin offer the best deal in steel. Give us a call right now at 940.383.9566.
Only one metal building company delivers the RHINO Difference.
Once you know all the facts, you too will be hooked on RHINO!