New Yorkers Know and Appreciate the Value of Steel Buildings
Pre-engineered metal buildings in New York are nothing new. New York is famous for its steel skyscrapers. Many iconic and innovative high-rise steel buildings dot New York City's landscape.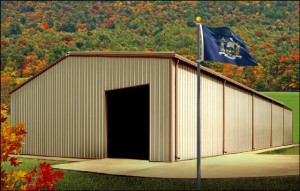 Prefabricated steel buildings in New York offer the same strength and durability of high-rise structures to the low-rise construction market.
Imagine the possibilities. Giant warehouses in New York City, aircraft hangars in Utica, restaurants in Albany, churches in Syracuse, recreation centers in Rochester, office buildings in Buffalo, self-storage buildings in Amherst, barns in rural New York— all framed with pre-engineered steel framing.
The Benefits of Pre-engineered Metal Buildings in New York
RHINO steel buildings are:
• Economical to buy— and to operate.
• Clear span, with completely unobstructed interiors.
• Durable and long-lasting, requiring little maintenance.
• Erect quickly and easily.
• Versatile in design, end use, and appearance.
• Eco-friendly, as steel is the most recycled material in the world.
• Super energy-efficient (with the optional Pro-Value Insulation package)
• Resistant to damage from fire, high-speed winds, crushing snow, lightning strikes, Eastern subterranean termites, mold, and earthquakes.
The Possibilities are Endless!
There are many pre-engineered metal building companies in the U.S., but only one delivers RHINO-tough structures.
RHINO includes many to-quality features in our prefabricated steel buildings in New York:
• 100% commercial-grade steel framing
• High strength bolts and nuts for stronger connections
• Long-lasting zinc-cast screws with EPDM sealing washers
• Time-saving pre-welded clips
• Cover trim for all framed openings
• Ready-to-assemble components
• High-quality PBR steel exterior panels
• Die-formed ridge caps for a tighter seal
• Closure strips for superior water protection
• Formed base trim to prevent corrosion
Are you planning a low-rise building project in the Empire State? Contact RHINO for the best building at the best price. Our pre-engineered metal buildings are guaranteed to meet or exceed all local codes for the LIFETIME of the structure.
Choose RHINO pre-engineered steel buildings in New York for all commercial, industrial, agricultural, aviation, and residential low-rise structures.
Phone RHINO right now for information on our steel buildings for New York: 940.383.9566.