Planning Your Fire Escape Route in Advance
President Calvin Coolidge proclaimed the first National Fire Prevention Week in 1925. The National Fire Protection Agency (NFPA) campaigns vigorously during this week to increase fire safety awareness and save lives. Today this observance is the longest-running public health campaign in the U.S.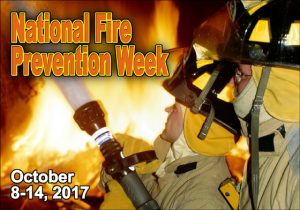 National Fire Prevention Week starts every October on the week corresponding to the anniversary of the Great Chicago Fire of 1871.
This year's drive focuses on urging people to plan and practice their fire escape routes.
Seconds Can Mean the Difference in Life and Death in a Fire
According to NFPA statistics, 3,390 civilians died in fires in the U.S. last year. Fire departments across the country responded to a fire every 24 seconds.
Don't let you or someone you love become a fire statistic. Be proactive about fire safety.
The NFPA strongly recommends every homeowner create at least two alternate plans for fleeing a home fire. Here are more tips from the NFPA:
Practice your home fire drill twice a year. Conduct one at night and one during the day with everyone in your home. Rehearse the escape using different ways out.
Teach your children how to escape on their own in the event you cannot help them.
Make sure your house number is clearly marked so firefighters can locate you quickly.
Close doors behind you as you leave to slow the spread of smoke, heat, and fire.
Once you get outside, stay outside. Never go back inside a burning building!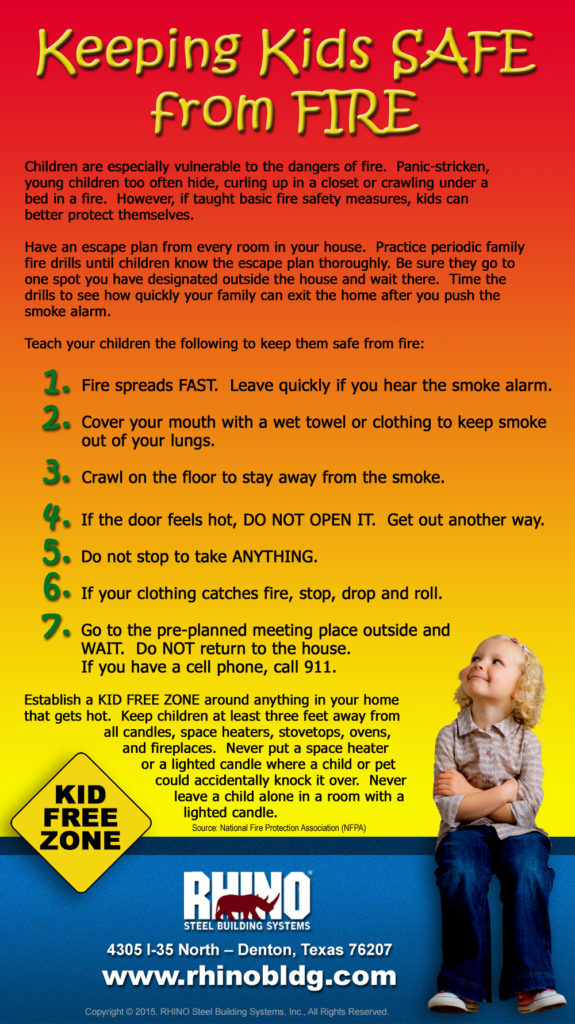 These wise preparations are for protecting your family during a home fire, but are also sage precautions for business owners. Apply the same National Fire Prevention Week tips to your business:
Be sure your business has two alternative fire escape paths planned from all areas.
Make every employee— including new hires—aware of those planned escape routes.
Post the escape routes in prominent places throughout the building.
Practice fire drills at least twice a year— more frequently, if possible.
Make sure your business address is clearly visible for fire vehicles.
Emphasize to the entire staff that no one is to reenter the building after getting outside.
For more information, NFPA supplies two National Fire Prevention Week resources planning fire escape routes: Every Second Counts and Plan Your Home Escape Mini-Lesson.
Build Fire-Resistant Steel Buildings
When planning a new commercial or industrial structure, consider the advantages of fire-resistant, noncombustible pre-engineered steel buildings:
The steel is never the point of ignition in a building fire.
Steel does not burn.
Steel never adds fuel to a structural fire like wood framing does.
Commercial-grade steel retains its structural integrity in a fire far longer than other building systems— especially when compared to lumber or light-gauge steel framing.
Pre-engineered steel building owners enjoy substantially lower insurance premiums, based primarily on the fire-resistant qualities of the commercial-grade steel framing.
For more details about the many other benefits of RHINO metal buildings, call us today at 940.383.9566.
Make this National Fire Prevention Week your fire safety wake-up call. Don't delay— formulate your own fire escape plans today!