Building Stronger, Safer, and Smarter with Steel
Pre-engineered metal buildings in Mississippi provide the strength needed to stand up to Mother Nature at her worst. Plagued by hurricanes, tornadoes, lightning strikes, and termites, the Magnolia State needs strong, damage-resistant steel buildings to meet these challenges.
Nature's Savage Fury in Mississippi
HURRICANES: As a Gulf Coast state, Mississippi frequently battles hurricanes. Screeching winds batter buildings. Storm surges and downpours flood homes and buildings.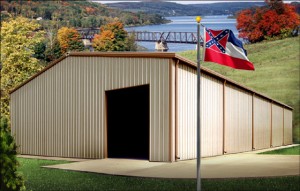 Notorious names like Camille and Katrina strike fear into the hearts of intrepid Mississippians.
Hurricane Camille crashed into Mississippi in August 1969. A devastating Category 5 storm at landfall, Camille's winds topped 200 mph. Camille killed 256 people and inflicted over $5.2 billion in damages.
In August 2005, Hurricane Katrina pounded Louisiana and Mississippi. Katrina slammed into Mississippi as a Category 3 storm with 120 mph winds. Hurricane-force winds continued for 17 horrifying hours. The storm surge soared to 28 feet. All the towns on Mississippi's coast flooded. The entire state became a federal disaster area. In Mississippi alone, 238 people died. Insurance companies shelled out over $13.5 billion for damages in Mississippi alone.
TORNADOES: Frequent violent thunderstorms— as well as tropical storms and hurricanes— spin deadly tornadoes. In the past 65 years, over 1,940 tornadoes have hit Mississippi. In 2005—just one month after Hurricane Katrina devastated the state— 44 tornadoes ripped across Mississippi in just 36 hours. Tornadoes kill and destroy, ripping buildings and lives apart.
LIGHTNING: Thunderstorms also produce savage cloud-to-ground lightning. On average, lightning strikes Mississippi over 800,000 times a year. Lightning damages buildings, often igniting fires— especially in wood-framed structures and forests.
TERMITES: Mississippi's warm, humid climate proves an ideal setting for termites to flourish. Three species of the wood-chomping little beasts afflict Mississippians: eastern subterranean termites, southeastern drywood termites, and the dreaded Formosan termites. Insidious and stealthy, termites invade wood-rich homes and businesses without warning. They can cause thousands of dollars in damages before they are even detected but are useless against Mississippi metal buildings.
Steel Buildings in Mississippi
While no structural system promises 100% protection from natural disasters, pre-engineered steel buildings in Mississippi provide the best protection available. Commercial-grade steel buildings offer built-in resistance to damage from high winds, fires, lightning, and earthquakes. Even Formosan termites cannot make a meal of steel buildings in Mississippi.
Insurance companies recognize the damage-resistant qualities of commercial-grade steel buildings. Many insurers offer significant premium discounts for metal buildings in Mississippi and elsewhere across America.
Strong, durable, economical, and versatile metal buildings meet the needs of builders in the Hospitality State. Metal buildings in Mississippi make great aircraft hangars, barns, churches, commercial buildings, homes, offices, restaurants, storage buildings, and warehouses.
Contact RHINO— a premiere steel building company— today. RHINO steel framing meets or exceeds all loads and codes for which the building is designed— for the lifetime of the structure.
Learn more about the advantages steel buildings in Mississippi provide. Get a free quote from our company on your next building project. Call 940.383.9566 today to learn about our Mississippi metal buildings.