High-Tech Auto Technicians Housed in High-Tech Buildings
Today's automobiles contain many highly technical and computer-controlled.  Auto repair work in the 21st century requires, high-tech diagnostic equipment, highly trained mechanics— and economical computer-designed metal buildings.
The 21st Century Automobile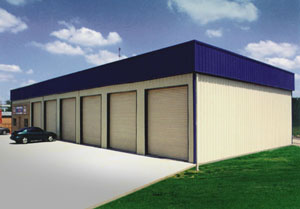 Years ago, anyone with a smattering of mechanical experience could open a little auto repair shop and stay busy.  Many amateur "shade tree mechanics" handled their own car repairs.
Those days are gone.
As in almost every other field, rapidly progressing technology has both blessed and cursed the auto and truck repair industry.
High tech advances in cars include more computer-operated systems, environmental controls, global positioning systems, rear cameras, and burgeoning hybrid fuel technologies.  Every carmaker strives to install more parts, more bells, and more whistles, making their models more innovative— and more complicated to repair.
Technology did not stop at just reinventing the automobile; improved high-tech diagnostic gadgets and gizmos are required in auto repair work today.  Vehicle repairs now use everything from a computerized engine analyzer to an exhaust gas meter to a stethoscope for vehicle repairs.
To stay abreast of auto industry developments, auto repair tools have improved— as have auto mechanics.
The 21st Century Automobile Service Industry
Today's auto mechanics are highly skilled, highly trained specialists.  In fact the term "auto mechanic" itself is now outdated.  The correct term is "service technician," to reflect the new level of training and ability needed to fix the ever-changing automobiles of today.
There are about 170,000 general automotive repair businesses in the U.S. today.
"Consumer Reports" National Research Center found over 70% of those surveyed favored independent auto repair shops over dealership service centers.
Tough Times Driving Business to Car Repair Shops
Americans are pinching pennies by driving their cars and trucks longer before trading vehicles.  Commercial businesses, which account for 22% of auto repair businesses revenues, also hold on to their corporate vehicles longer.
Older cars on the road equate to more business for the automotive repair industry.  There is no better time to start or expand an auto service enterprise.  And there is no better way to build than with prefabricated steel buildings from RHINO.
The Mechanic's Choice: Pre-engineered Steel Buildings
Advances in engineering software and in steel manufacturing created a way for prefab metal buildings to be custom-designed for each client quickly and economically.  Steel shop building kits are designed specifically to specifications, produced at the factory, shipped to the job site, and quickly erected in a matter of weeks.
RHINO buildings are impervious to termites and mold, fire-resistant, strong, durable, attractive, and versatile.
Every RHINO structure is guaranteed to meet or exceed all local building codes for the lifetime of the structure.
Accessories like high-quality insulation packages, skylights, gutters, mezzanine floor systems, and overhead doors ship with the steel framing package.
Why not call us now for a free RHINO quote on an auto service structure or for any other steel building?  We provide strong, RHINO-tough structures for everything from metal buildings for backyard workshops, garages, and hobby huts, to indoor horse riding arenas, giant steel warehouses, and metal aircraft hangars.
Call: 940.383.9566.