There are many reasons adaptable steel buildings work particularly well as metal church buildings.  Pre-engineered steel buildings are not only very affordable, but a stronger, safer, smarter way to build any low-rise structure, including churches.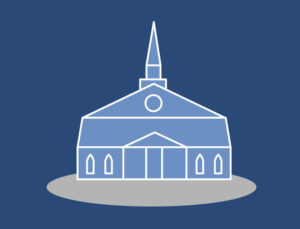 Of the many benefits inherent in steel buildings for churches, three advantages of prefab church buildings in particular appeal to religious congregations: high ceilings, wide spans, and exceptional affordability.
Most churches prefer high ceilings for their main sanctuary.  RHINO Steel Building Systems accommodates church building designs up to 40' high at the eave as a standard order. Towering prefab church buildings above 40' tall are available with a custom quote.
Most steel structures require lower roof pitches of 1:12 to 4:12.  However, if a church sanctuary or other religious structure requires a loftier roof pitch to achieve a more dramatic appearance, submit your plans to RHINO for a custom quote.
Steel Buildings Allow Wide, Unobstructed Sanctuaries
If a completely open, unhindered space is what your church has in mind for a sanctuary, gymnasium, or other facility, a pre-engineered steel building is definitely the answer.  Since steel is so much stronger than other building materials, the framing supports itself over large spans. Clear span steel buildings for churches need no interior columns to support the frame.
RHINO prefab church buildings can clear span up to 150' wide with a standard order. Widths of 200' or more require custom quotes. There are no limits on building lengths with RHINO's steel buildings for churches.
However, if building fund constraints make the budget tight, consider a modular church structure with minimal interior support columns.  Most designs find modular framing to be less expensive on structures over 80' wide.
For a price comparison, have your church project quoted as both clears span and modular.
Steel's Clear span Benefits in a Traditional-looking Worship Center
A metal building system need not restrict exterior options for churches or other steel structures.  Use any conventional building material to finish the exterior of a RHINO steel building.  Apply brick, stone, stucco, tilt-up concrete, glass, or even wood individually— or in combination— to grace steel building facades and achieve any appearance required.
Metal Church Buildings: Economical to Build and Operate
RHINO metal church buildings provide premium-grade building materials for all church facilities.
Our steel church buildings provide savings over other building systems, both during construction and over the lifetime of the building.  These include:
SAVING TIME—  Computerized designing and streamlined factory production techniques minimize time, allowing for shipment of the completed steel church building or other structure in a fraction of the time.  All of the metal church building components arrive already cut to length, welded, drilled, and clearly marked for fast, easy erection, slashing construction time by as much as one-third.

SAVING MONEY NOW—

  Multiple shipping points across the U.S. permit RHINO to transport metal church buildings and other structures from the closest factory, saving on shipping.  The building system arrives at the job site ready to assemble, saving time and therefore money on construction. Prefabrication of the metal building kit reduces waste, another savings over conventional construction.  Sell any materials left at the end of the project as scrap, to be recycled into new steel.

SAVING MONEY OVER TIME—

Steel church buildings require far less maintenance over the years.  Reduce energy bills by as much as 50% over other systems with the RHINO Pro-Value Package.  Metal church buildings create a tight, long-lasting, draft-free building envelope, which saves even more on utilities.  Typically, steel church buildings receive insurance discounts, due to the fire-resistant advantages offered by steel framing, saving even more on operational costs.
Call Today for a Steel Building Quote on your next Church Project
Learn more about versatility, economical, functional, and long-term advantages of RHINO metal buildings for churches.
Speak with a friendly and knowledgeable RHINO metal building specialist today for more information on steel buildings for churches. Call 940.383.9566 now.
Related RHINO blogs:
• Stewardship and Steel Churches
• Counting the Cost for a New Church Building