Why Growing Industries Choose RHINO Industrial Buildings
When your growing business needs more space, turn to RHINO prefab metal buildings.  Our clear span prefab industrial buildings create elbowroom for booming businesses to operate efficiently— and profitably.
Booming Online Sales Drive the Industrial Building Market
In 2019, already robust online sales increased an additional 16%.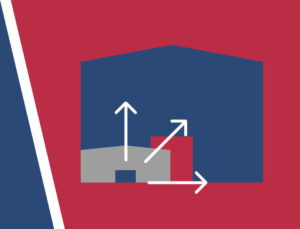 According to Digital Commerce, the COVID-19 pandemic has driven online sales up 40% so far in 2020.
Shockingly, online sales with store pick up options surged a whopping 248% by the end of May 2020!
Two trends now drive the increasing thirst for more industrial square footage:
Firstly, online businesses are actively promoting faster-than-ever deliveries.
Secondly, today's online fulfillment centers demand triple the amount of warehousing space of traditional stores.
Consequently, there has never been a better time to invest in constructing a new building— or expanding a current structure.
RHINO Prefab Steel Buildings for Industry
E-commerce businesses, factories, and warehouses need huge amounts of unobstructed space. Only steel pre-engineered buildings deliver the clear span space industrial businesses demand.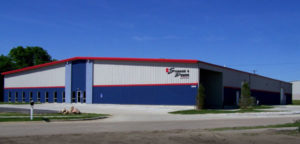 For example:
RHINO clear span buildings may reach 300-foot widths.
With minimal interior columns, our steel manufacturing buildings can stretch to 480-foot widths.
RHINO prefab metal buildings allow up to 40-foot eave heights. Higher structures are possible with customized structures.
With RHINO prefab steel buildings, structural length is limitless.
In addition, RHINO's pre-engineered system slashes construction time by about 33%. That is an important consideration in this rapidly burgeoning market.
RHINO Extensions for Industrial Buildings
RHINO's steel manufacturing buildings expand easily and economically. The simple addition of added bays at either end-wall creates extra square footage on prefab industrial buildings.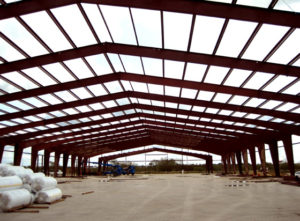 There are three basic ways to increase floor space on an industrial metal building:
VERTICAL: Is the building height ample? If so, consider adding vertical space by installing a RHINO steel mezzanine system above. Designed to carry its own weight, steel mezzanines place no additional stress on a standing structure.
LENGTH: Typically, the most economical steel building expansion starts at an endwall. If the original building included expandable endwalls, adding floor space is simple and very cost-efficient. Nevertheless, even regular endwalls can be expanded with additional steel for extra support.
WIDTH: Adding space on an industrial steel building sidewall requires a little more design and engineering than an endwall. However, the results can be very attractive.
However, it is also possible to couple a steel extension to any type of existing structure.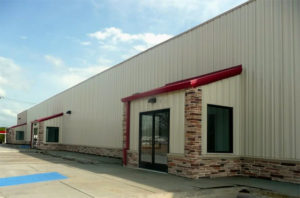 Steel building expansions are entirely self-supporting. Therefore, they impose no extra load on an existing structure.
Conclusion
RHINO steel industrial buildings uniquely meet the needs of today's escalating e-commerce, manufacturing, and warehousing business expansions.
Call RHINO for More Information about our Prefab Metal Buildings
RHINO prefab industrial buildings offer the quality, strength, fire-resistance, low-maintenance, and energy efficiency that industry demands today.
Please call RHINO Steel Building Systems now at 940.383.9566. Tell us about your upcoming building or remodeling project.
Many business owners now proudly claim RHINO as their steel building source. Our customers depend on us for all their building and expansion needs— and so can you.
Let us show you why RHINO stands out from the common herd of metal building companies.
(Updated 6-24-2020. Originally published 11-14-2018.)