The Worst Hurricanes in U.S. History
In part one of this series on hurricane-resistant construction, we looked at hurricane basics. This installment lists the deadliest and most destructive hurricanes in America's history.
Hurricane or Typhoon?
Many people think hurricanes are born in the Atlantic Ocean and typhoons form in the Pacific Ocean. That is a misconception.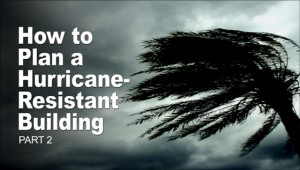 Storms forming above the equator in the Atlantic— and reaching sustained winds of 74 m.p.h. or more— are known as hurricanes. However, cyclones appearing in the Pacific east of the International Dateline (and above the equator) also receive a hurricane designation if they strengthen to 74 m.p.h.
Pacific storms forming west of the International Dateline (and north of the equator) are called "typhoons" when they reach sustained winds of 74 m.p.h. When typhoon sustained winds reach 150 m.p.h., the designation changes to the term "super typhoon."
In 2014, Hurricane Genevieve crossed the International Dateline and became Typhoon Genevieve. Later the storm changed names again when its winds strengthen to 150 m.p.h., earning the moniker Super Typhoon Genevieve.
Tropical storms forming below the equator are called "cyclones."
All tropical storms, hurricanes, and typhoons north of the equator spin counterclockwise. South of the equator, cyclonic storms rotate clockwise.
The Worst Hurricanes in U.S. History
According to NOAA (the National Oceanic and Atmospheric Administration), almost 20,000 have lost their lives in the top five killer hurricanes.
Please note that all but one of these hurricanes were before meteorologists began naming hurricanes, so locations indicate the storms. Experts calculated the strength of these four storms based on reports and photos of destruction. (See Part 1 of this series for more information about the Saffir/Simpson Hurricane Scale.)

Below we have listed the ten most expensive hurricanes in U.S. history, based on estimated property damages.
Hurricane Sandy, which pounded the northeastern U.S. in 2012, almost seized the number two slot on the above list. Sandy inflicted $71.4 billion in damages. It reached Category 3 strength at its peak, with sustained winds of 155 m.p.h. However, we excluded Sandy because it was downgraded to a tropical storm shortly before it made landfall, so it was technically no longer a hurricane.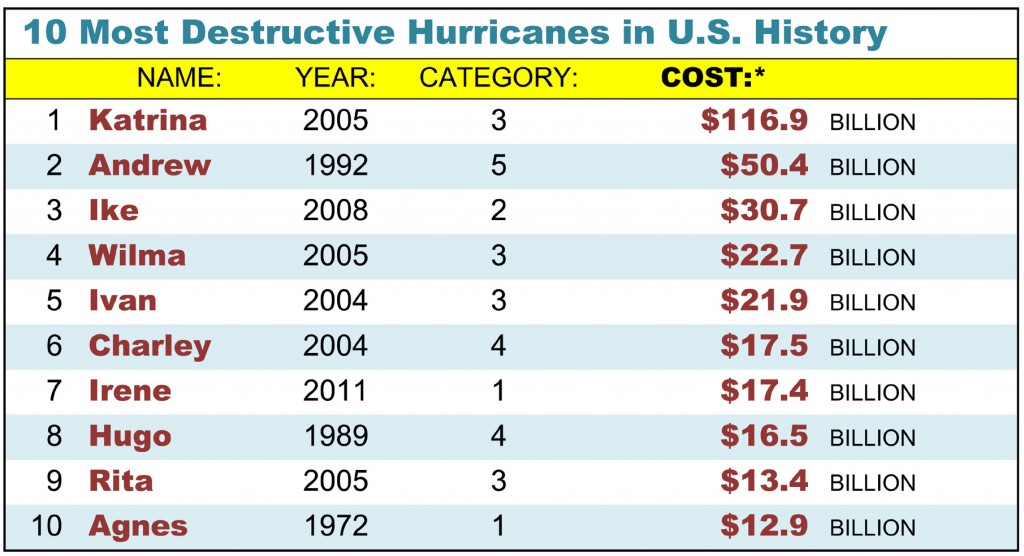 *These totals are in U.S. dollars, adjusted for inflation to 2016 costs.
Analyzing the most devastating catastrophes in U.S. history reveals that hurricanes account for over 66% of all insured property loss. However, estimated property damage represents a small part of the real cost inflicted by these massive storms. Property damage estimates are based on insurance collected figures.
Hurricane Ike, for example, rates third in overall property damage. However, the number is skewed because it does not include the high number of uninsured properties destroyed, nor does it include flood damage not covered by most insurance policies. Loss if infrastructure and utilities is not included either. The property damage estimates ignore downtime of food services, and commercial, industrial, and agricultural businesses, too.
Texas Engineering Extension Service worked with Texas A&M University to develop the Hurricane Ike Disaster Impact Model, which takes a broader view of the total costs over the twelve months after Ike. This reports places the true costs of Hurricane Ike in Texas at $143 billion.
Hurricane-Resistant RHINO Steel Building Systems
It just makes sense to provide the strongest possible hurricane proof construction— especially in hurricane-prone coastal areas. Exposing the building— or lives— to hurricane damage is not an option.
RHINO prefabricated metal building systems stand up to the challenges in North America. Our structures will meet or exceed every present-day building code in your area— guaranteed— for the LIFETIME of the structure.
Call RHINO today at 940.383.9566 for more information on hurricane-proof construction. Our experienced steel building specialists will answer all your questions about metal buildings— and supply a free, no obligation quote.
Do not miss part 3 of this series, which features tips for building more hurricane-resistant structures in storm-prone areas.