The Process of Pricing a Pre-engineered Steel Building
You want an accurate metal building quote. Otherwise, how can you make an informed decision?
There are two ways to insure a precise steel building quote:
1. Deal with a reputable metal building company with a solid track record.
2. Provide as much detailed information as possible.
Understanding the Basics of Metal Buildings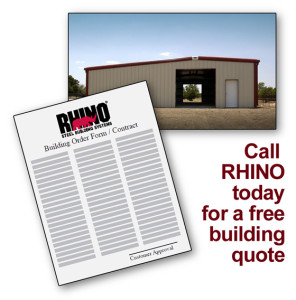 Before you decide on the size building you will need, consider how steel buildings are measured.
Out-to-out measurement of the steel framing determines building size. If you are basing your building size on interior dimensions, you will need to adjust the building width and length to include the steel columns.
Steel building heights are measured at the framing eave. If you require a specific ceiling height, adjust your building dimensions accordingly.
RHINO's steel building specialists can assist you in choosing correct dimensions to correlate with your design.
Supplying Complete Information
Once you have determined the correct width, length, and height of your structure, you are ready to begin the metal building quote form.
Contact information allows the company to ask pertinent questions about your project.
General Building Specifications
Knowing the county in which you are building is essential to providing an accurate quote. Local building codes dictate the wind, snow, and seismic loads required for structures. Some municipalities also have building height or other restrictions.
Understanding the purpose of the building helps clarify other restrictions which apply. It may also decide on the type of framing necessary. For example, an aircraft hangar requires unobstructed space, dictating a clear-span frame. A manufacturing plant of the same size might include limited columns, indicating economical modular framing.
The roof type and pitch affects the price of your structure. Most metal buildings assume a gable roof. Hip rooflines are also available, but gable roofs are the more economical choice.
Options and Accessories
The number and sizes of framed openings in a structure changes pricing.
Heavier-gauge standing seam steel roofing, A-panels, and cool-coated steel roofing options appeal to many buyers.
For a more dramatic building profile on a commercial building, RHINO offers several canopy configuration options. Extend the eaves for a more traditional look. Add protective endwall extensions to create covered areas. Add visual interest to your structure with metal building fascias.
RHINO offers a number of attractive accessories for your steel building. All accessory items ship with the steel framing. Choices available include:
Dektite® boots
Door canopies
Gutters and downspouts
Insulation packages
Interior partitions
Liner panels
Overhead doors— with or without insulation and electric or hydraulic door operators
Skylights
Vents
Walk-through personnel doors
Fast, Friendly Metal Building Quotes
RHINO's online quote form provides you with quote basics. For more complete information, RHINO's experienced and insightful steel building specialists lead you though the quote process, step by step. They'll also supply you with a list of everything included in the RHINO package.
All RHINO quotes are offered at no obligation to you. Call 940.383.9566 now to get your metal building quote started.