Part Two: Metal Building Side Wall Expansions
While it is usually more economical to expand a steel building at an endwall, adding floor space at a side wall is also feasible.
Unlike other building systems, pre-engineered metal buildings are completely self-supporting. A clear span steel building does not require interior walls or columns to "prop up" the weight of the structure. To add floor space, engineers simply create another self-supporting metal building add-on to adjoin the original structure.
Metal Building Side Wall Expansions
Two types of side wall extensions prove the most logical choices for steel building renovations.
SINGLE SLOPE: The first metal building add-on choice is to add a shed-type roof structure. Known as single slope system, this addition abuts the original structure on the side.
A single slope structure attaches in two ways: either at the eave height, extending the original roofline, or lower than the eave line of the existing building.
Any building length is possible with a single slope framing system. The metal building extension may be shorter in length, the same length, or even longer than the original structure. Shed-roof extensions may be used on either— or both sides of a building.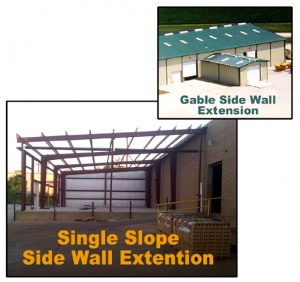 GABLED ADDITION: The second way most often employed to expand a steel building uses an opposing gable roof structure. This building erects perpendicularly to the original structure.
The new structure's roof peak may be lower than the eave height of the first building, or may match the structure's height.
When using perpendicular gable attachments, special care must be taken to create a watertight seal between the old structure and the new addition. In areas plagued by heavy snows, a single slope addition presents the best option. It's also recommended to follow the same roof pitch when aligning with the existing eave.
PLACEMENT OF A NEW METAL BUILDING ADD-ON
The most favorable position for a new steel building side wall expansion is between the steel columns. Most pre-engineered metal buildings space columns 25-feet apart. By centering the structure between two columns, placing the access between the old and new structures is simple.
WARNING: Never cut a column from the original building to create an opening into the new structure. Doing so compromises the structural integrity of the original building.
Expand a Steel Building— or Any Other Structure— with RHINO
RHINO's premiere steel building systems make it both easy and economical to expand a steel building. In fact, since the RHINO metal building additions are completely self-supporting, they make great expansions for any type of structure.
Learn more. Trust a RHINO metal building extension specialist for sound, practical advice on how to expand a steel building or other structure. Their experience is invaluable when planning a steel-framed remodeling project.
Call RHINO today for expert expansion tips and a free quote on your project or metal building add-on. Our number is 940.383.9566.