Save 50% on Utilities with a RHINO Metal Building Insulation System
Insulating a metal building well reduces energy costs.
In fact, RHINO's Pro-Value metal building insulation slashes heating and cooling bills in half!
Sealing the Building Envelope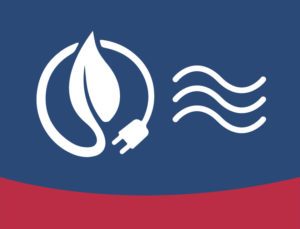 A tightly formed building envelope begins with the frame.  A RHINO pre-engineered steel building kit creates a draft-free structure.  Moreover, RHINO's rigid-frame buildings stay tight for decades.
However, high-performance buildings also require an energy-efficient building insulation system. The insulation for a metal building, proper ventilation, and eco-friendly exteriors all work together to finish sealing the building envelope.
Insulating a Metal Building the RHINO Way
A building's energy performance starts with sealing every joint and seam to minimize air infiltration.
Consequently, every RHINO steel building package includes die-formed ridge caps and tape sealant for an airtight, waterproof seal.
A caulk-like tape mastic installed between the PBR panels further seals of the building envelope.  Self-drilling screws with long-lasting washers ensure no air or water leaks.
RHINO buildings also include formed-based trim and eave closure strips.  These strips offer the ultimate protection from drafts and leaks where the walls join the foundation and the roof.
RHINO's Supreme Metal Building Insulation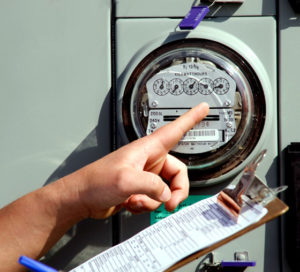 The insulation for a metal building is the most important factor in energy-efficient buildings.  Without sufficient insulation, huge amounts of energy— and money— are simply wasted.
Even structures without heating and air conditioning— like barns or storage buildings— are more comfortable and protected when properly insulated.
Fortunately, rigid-frame steel buildings create deep wall cavities.  This allows the use of much thicker, more energy-efficient insulation without any compression.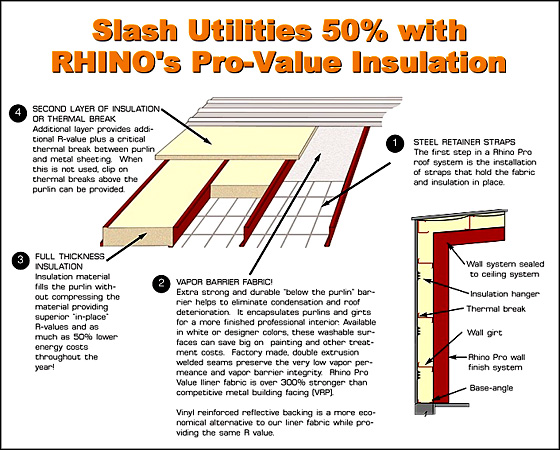 RHINO's optional Pro-Value Insulation Package contains economical fiberglass insulation up to 9.5" thick (R-30) for walls and 12" thick (R-38) for the roof.
All RHINO buildings also use purlin bearing roof (PBR) panels.  PBR panels provide more overlap between panels than cheaply made R-panels for a stronger, tighter seal.
Even greater benefits come with RHINO's optional cool-coated steel roofing.  In fact, our reflective cool-coated roofing saves customers up to an extra 15% on summer utilities in hot climates.
In addition, the Pro-Value Insulation Package includes a second layer of insulation. This foam sheeting acts as a thermal break.
Our Pro-Value metal building insulation systems also include an extra-strong fabric vapor barrier.
Beyond Insulation
A top-of-the-line metal building with insulation is a great beginning.  However, there are additional ways to decrease energy waste, too.
Consider the following options that add to insulating a metal building:
VENTS: Vents allow you to control airflow in and out of the structure.  In structures without heating and air conditioning, ventilation helps avoid condensation problems.  RHINO offers both louvered and ridge vents as accessories.
DOORS: All RHINO's heavy-duty steel entry doors come with an insulated core. Weather sealing and heavy-duty locks are included.
OVERHEAD DOORS: RHINO offers a large selection of insulated overhead door styles.  We supply— from garage doors to large hydraulic hangar doors— and everything in between.
SKYLIGHTS: Increasing natural lighting automatically decreases the need for artificial lighting, thus saving energy.
Conclusion
A RHINO metal building with insulation from the Pro-Value Package saves 50% on your utilities.
Get a Quote on a RHINO Metal Building with Insulation
To start insulating a steel building for less, call RHINO today at 940.383.9566.
Ask for more information about RHINO steel building kits, insulation for a metal building, and our optional energy-saving accessories.
(Updated 9-23-2020.  Originally published 4-28-2015.)