Tight, Energy-Conserving Building Envelopes Start with Steel
In existing buildings, employing energy reducing strategies save resources— but it is even better to construct energy-efficient buildings in the first place.
Pre-engineered steel buildings create tight, rigid, leak-resistant building envelopes.
The Envelope, Please…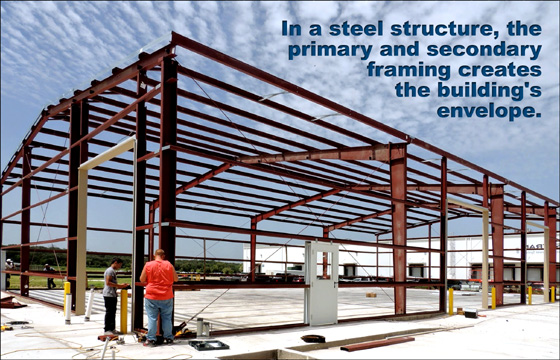 The building "envelope" is the part of the structure separating indoors from outdoors. The envelope includes the roof, outside walls, and foundation.
The goal is to build a close-fitting envelope, free of air leaks and drafts. It should reduce the effect of the outside climate on inside temperatures. The building envelope also needs to effectively shed water and dry quickly, to avoid rot and mold.
To avoid needlessly wasting energy, the building envelope must not only be built close fitting, but also remain tight throughout the building's lifetime.
Sealing the Envelope: Wood vs. Steel
Wood-framed buildings rarely go up completely straight or square.
Wood-framed structures start with imperfect lumber. An organic material, wood changes shape as the moisture content in the air varies.
Each axis of a wood stud— width, depth, and length— expands and contracts at different rates as moisture change. Consequently, lumber bends and twists. Wood builders must reject 15%-20% of the lumber delivered, due to warping, splitting, bowing, or other flaws.
After construction, wood framing members continue to move as humidity fluctuates. Builders call this process "creep." Nails and staples start to work out. Long spans across the roof or over garage doors sag. Windows and doors fail to close properly. As the building envelope loosens, drafts develop, stealing building energy.
In a pre-engineered steel building, the primary and secondary framing— column beams, rafter beams, girts, and purlins— creates the skeleton of the building envelope.
Manufactured to exacting specifications in quality-controlled factories, steel framing components are straight and rigid— and remain so throughout the lifecycle of the structure. The bolts and screws connecting the framing do not move or loosen over time. There is no warping, splitting, or creeping with a steel building.
Inorganic steel framing goes up straight, square— and continues to hold its shape, beauty, and value year after year. The steel building envelope stays snug, draft free, and energy-efficient throughout its lifetime.
Building It Right, Building It Tight
RHINO's prefabricated steel building system creates extremely tight-fitting, energy-efficient buildings. Our building envelope resists air and water leaks, mold and mildew problems, and aging better than traditional wood construction.
Pre-engineered steel buildings also provide added resistance to damage from lightning, fire, wind, rain, snow, termites, and earthquakes.
Selecting a strong, durable building envelope is the first step in constructing energy-efficient buildings. The next step is to choose energy-saving products and options to enhance the savings. We will cover some of these additional eco-friendly choices in part two on our next blog.
Make the green building choice that is right for the planet— and your pocketbook. Call RHINO today for a free steel building quote on your next project— or for more information on energy-efficient metal buildings. Our steel building experts await your call at 940.383.9566.