Steel Building Maintenance- Part 3
Cleaning metal building overhead doors helps maintain their function and beauty through decades of use.
Washing an overhead door takes only 20 or 30 minutes. Like washing your car, door cleaning makes a great weekend project on a bright, sunny day.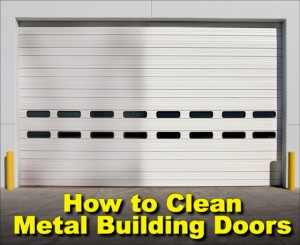 The best time to wash metal building overhead doors is probably the same time you clean gutters, during scheduled building cleaning.
These recommended procedures cover anything from a roll-up metal garage door to a gigantic hydraulic lift steel bi-fold hangar door— and everything in between.
Before Washing Overhead Doors
Heed two warnings before you start cleaning steel doors:
Clean all the tracks of the door's operating system before you begin. Use a soft brush or broom to sweep out dirt, dried mud, and debris from the track.
Never use a power washer on self-storage unit doors. Your clients do not appreciate their stored valuables getting soggy. Clean mini-warehouse doors with a non-spraying water hose, carefully avoiding the top and edges of the door.
How to Clean Metal Building Overhead Doors
If the outside of the door is only light soiled with dust, simply spray the door with a household cleaner and wipe it clean with soft paper towels or shop cloths. Move from top to bottom. Rinse the door surface gently with a plain water hose. Dry the overhead door with a soft towel or cloth.
Since the interior of the door gathers less grit, spraying with a household cleaner should suffice. Clean the dirt away with paper towels or disposable shop cloths.
Grimier doors require a deeper cleaning method.
Using a plain garden hose without a sprayer, wet the door surface. Use a soft brush dipped in a bucket of warm water mixed with mild detergent. Gently scrub the door surface. Rinse the door with a garden hose. Dry the door with soft, clean towels or cloths.
To return a metal building overhead door to its original luster, try applying a coat of car wax.
(If you prefer, you can save a step by washing with a combination car wash-and-wax formula mixed with warm water instead of the mild detergent.)
Sound simple? It is!
RHINO's Easy-Care Metal Building Doors
RHINO Steel Building Systems can fulfill any need for high-quality metal building doors.
Our sturdy steel doors come in a variety of styles. Choose drum style doors from 20' to 36' in width. Optional electric lifts can ship with any order.
RHINO offers hangar and warehouse-type doors for our metal building orders, too. Choose large doors in widths from 24' to 70'. Hydraulic operators are also available. Bi-fold and side-slide doors for hangars or farm buildings are also an option.
RHINO offers certified wind rated doors, too, as well as insulated overhead doors for climate-controlled structures.
Need more information on RHINO's first-class metal buildings and all the door options? Call RHINO today. Speak to a RHINO's professional steel building consultant about your next low-rise building project. Our number is 940.383.9566.
Get hooked on RHINO. You will find RHINO's quality-made structures stand out from the common herd.