Tips on Choosing Energy Efficient Windows
Insulated windows for steel buildings save money, decrease energy usage, make the home or building more comfortable, and increase the value of the structure.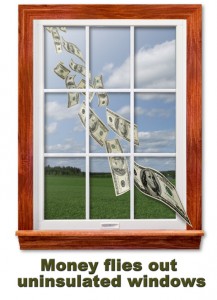 Choosing insulated windows over single pane windows is a no-brainer for new construction. Replacing energy wasting, uninsulated windows with high-performance windows in existing structures makes sense, too— especially in bitterly cold or extremely hot climates.
How do you choose which kind of insulated window to buy?
Here are a few basics you need to know before selecting insulated windows for steel buildings.
Panes
Windows with only one pane of glass waste energy. Extremely inefficient, single-paned windows practically suck your energy dollars out of your pocket.
Poorly insulated windows in a structure account for as much as 33% of heat loss in winter and 50% of heat gain in summer. Choosing well-insulated windows over cheap single-paned windows lowers cooling and heating expenses 15%-50%.
Double-paned windows place two glass panes in a window frame with a space between them. Double-paned windows are roughly twice as energy efficient as single-paned windows.
Triple-paned windows add a third pane of glass and another space, further increasing energy efficiency.
The more panes, the greater the window's performance— and the higher the price.
The greater the depth of spacing between the panes, the higher the insulating value.
Look for insulated windows with impact-resistant glass panes if you live in a hurricane-prone area.
Coatings
Glaze coatings lower the amount of daylight penetrating the window.
Insulated windows may include Low-Emittance (Low-E) coatings. An imperceptible clear coating like metallic oxide covers one pane of glass. Low-E glazing blocks the sun's long wavelength radiation, while allowing shortwave sunlight to pass through.
Low-E coatings improve the windows performance approximately as much as adding a pane of glass. Consequently, a double-paned air-filled coated window should be roughly as energy efficient as a triple-paned air-filled window without coating.
Gas-filled windows with coating almost double the insulating value of air-filled, plain glass windows.
Reflective glazing filters out 40% or more of the sun's heat.
Colder climates require different coatings than hotter climates— and on a different pane in the window system. Make sure the window is rated for your area of the country. (See the window label.)
Typically, coatings add 5%-10% to the price of the window.
Space Filling
Dead air sandwiched between panes of glass acts as a good insulator. Inert gas creates even a better insulator.
Manufacturers seal argon or krypton gas in the spaces between glass window panes. Clear, odorless, and safe, these inert gases increase the insulating performance more than plain air.
Argon-filled windows have an insulation value about 40% higher than air. Windows using argon gas are most effective with a spacing of one-half inch between the planes. Argon generally costs about 5%-10% more than air windows.
Windows filled with krypton gas boast a 140% higher insulating value than dead air— but at a much higher price than plain air windows.
Gas-filled windows for steel buildings leak over time, losing about 10% of the trapped gas over 20 years. However, the amount of gas lost makes an insignificant difference in the window's thermal performance.
Gas-filled windows are particularly well suited to colder climates.
Spacers
In multi-pane windows, spacers made of wood, aluminum, vinyl, or fiberglass separate the panes of glass.
The spacers themselves conduct heat. Poorly insulating spacers cause the edges of the windows to be colder in winter— and can escalate the chances of condensation problems.
Choose energy efficient windows with thermally resistant spacers to reduce condensation problems in colder climates.
Frames
Framing materials which conduct thermal energy account for as much as 15% of the total energy lost through a window.
Insulated windows frames are available in aluminum, wood, vinyl, or fiberglass.
Metal conducts temperature easily. Consequently, aluminum frames perform poorly— unless the frame includes urethane strips as thermal breaks.
Fiberglass window frames out-last other framing materials— and offer less thermal bridging.
Vinyl window framing resists damage from rot, insects, and weather. However, vinyl's color fades. It also become brittle over time, creating air leaks around the window.
Wood-framed windows conduct less heat, but are much more maintenance intensive than vinyl or aluminum. Nevertheless, wood window sales dominate the market with a 46% share.
Aluminum and vinyl window frames clad with wood appeal to many window customers.
Reading Window Labels
A thorough examination of the label makes comparing one window to another much easier.
The National Fenestration Rating Council (NFRC) tests and certifies the energy performance of windows, doors, and skylights. This is a voluntary program, so not all window products carry the label. However, windows carrying the sticker offer a wealth of information on energy ratings.
Click on the infographic at right for an explanation of the numbers on the NFRC sticker.
Look for the blue ENERGY STAR® seal to isolate the most energy efficient windows.
Be sure to compare windows of identical sizes, as the ratio of the glass to frame affects the rating.
Insulated Windows for Pre-engineered Steel Buildings
Environmentally-friendly steel buildings and homes deserve energy-saving insulated windows, too.
Windows can be purchased locally. However, RHINO includes framing for all windows and doors with the order.
Call RHINO metal buildings today, at 940-383-9566 to learn about windows for steel buildings. Find out more about the RHINO Difference in steel buildings.