How a Metal Building Kit Saves Money Even After the Sale
Certainly, you want a good deal on your initial metal building pricing.  And prefabricated steel buildings bring an attractive cost-per-square-foot.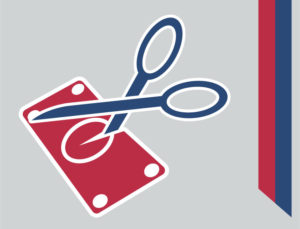 However, your attractively priced RHINO metal building kit accounts for only part of the savings.  Our steel structures are also economical to use.
RHINO steel building owners continue to save money year after year.  Look at the ways a RHINO structure cuts operating costs long after the metal building sale:
Slash Metal Building Costs in Half with Pro-Value Insulation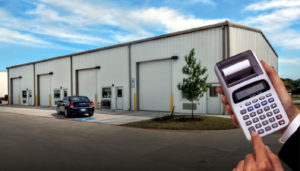 The deeper wall cavities of a prefab metal building provide room for much thicker insulation.  Consequently, well-insulated steel buildings save energy.
By installing our optional extra-thick Pro-Value Insulation Package with thermal breaks, RHINO metal building owners slash heating and cooling bills in half!
Better yet, a well-insulated metal building also cuts down on distracting outside noise.
Fortunately, dimensionally stable steel also never bows, warps, splits, twists, rots, cracks, or creeps like lumber does.  Consequently, RHINO steel buildings stay straight and plumb for the lifetime of the structure.
In addition, a RHINO metal building kit connects with high-strength bolts and screws— not nails and cheap staples like those used in wood framing today.
Furthermore, a steel building's windows and doors close properly and seal tightly now— and for decades to come.  A prefab metal building remains tight and draft-free, cutting energy costs.
Lower Metal Building Pricing—and Less Expensive Insurance
As a non-combustible building material, steel never ignites, nor adds fuel to a structural fire.  Therefore, the fire-resistant qualities of RHINO steel buildings earn much lower premiums with most insurance carriers.
Save on Your RHINO Metal Building Sales—and Pay Less for Maintenance
Metal buildings never require the upkeep and frequent painting associated with other buildings.  The weather-resistant finishes on steel panels and trim keep steel buildings looking fresh and new year after year.
In addition, a steel building weighs less than a wood building.  Less weight means less settling, reducing the chance of costly and annoying foundation problems over time.
No Costly Mold or Termite Treatments to Add to Your Metal Building Costs
Removing obstinate mold is expensive.  As an inorganic material, steel does not support mold, mildew or other fungi growth.  Consequently, there is no need for expensive mold eradication and repairs for steel framing.
As an added bonus, steel emits no volatile organic compounds (VOCs).  That promotes a healthier indoor air quality than wood materials, which outgas.
Shockingly, Americans spend $5 billion annually for termite control and repairs.
Wood buildings issue an open invitation to destructive termites and other creepy crawlers to dine in.
On the other hand, steel's resistance to termites, wood ants, and gnawing vermin eliminates the need for costly chemical treatments and repairs.
Steel Building Prices include Built-in Weather Protection
RHINO's high-quality metal buildings stand up better to earthquakes, winds, snows, and other weather extremes far better than wood structures.
RHINO metal building costs also include many upgraded waterproofing features— at no additional cost to you!
And that's not all.
Did you know lightning inflicts more damage each year than hurricanes and tornadoes combined?
Fortunately, in a well-grounded metal building, lightning current passes through the steel and harmlessly into the ground.
Lower Metal Building Pricing for Remodeling
In a clear span steel building, it is easy to reconfigure your floor plans.  You are free to change the layout as you need, without working around interfering load-bearing walls or columns.
Metal buildings also expand easily and economically. You just order additional steel frames for the endwalls.
Long-Lasting Resale Value
Practically ageless, RHINO prefab metal buildings hold their original beauty— and value— year after year.
Even after decades of faithful service, a "retired" steel building has worth.  At the end of the metal building's usefulness, just sell the steel framing to a recycler!
On the other hand, wood building owners must pay someone to haul demolished lumber to the dump.
Conclusion
A RHINO metal building sale assures affordable pricing now— and lower operating costs.
A RHINO Metal Building Sale is the Smart Choice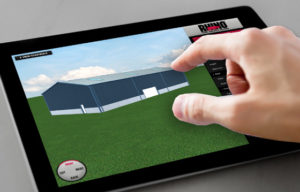 Learn more about RHINO metal buildings.  Check out our online brochure.
Call us now at 940.383.9566. We would love to discuss your next building project in detail.
Online quotes are also available, as well as an online steel building design tool for your use.
(Updated 1-29-2020.  Originally published 1-5-2018.)