Milestones in American Residential Steel Framing
Steel homes are not a new concept. In fact, the first steel-framed house in the U.S. arrived on the scene in 1929!
The Great Chicago Fire originally sparked interest in steel buildings.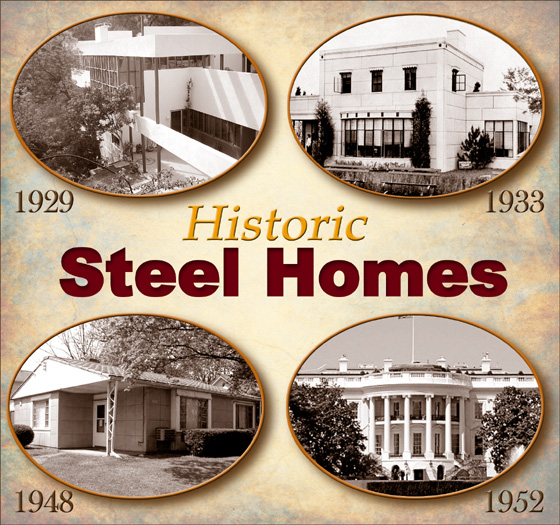 In 1871, most of Chicago consisted of wooden buildings, homes, sidewalks, streets, and bridges. On October 8, a fire began near Michael and Catherine O'Leary's barn. Driven by drought conditions and high winds, the small fire soon grew to a raging inferno, consuming thousands of wood structures. Rain finally doused the flames on October 10.
Another fire in 1874 destroyed 800 more buildings in the Windy City.
In an effort to avoid more such catastrophes, Chicago officials looked for more fire-resistant building materials. Thus in 1885 the Home Insurance Building in Chicago— the world's first 10-story structure— used a fire-resistant iron and steel frame.
The Lovell Health-House
Richard Neutra cut his architectural teeth on steel construction with Chicago firm Holabird & Roche. After working briefly with famed architect Frank Lloyd Wright, Neutra set up shop in Los Angeles.
In 1927, Neutra designed the first American steel-framed home for naturopathic Dr. Phillip Lovell in Los Angeles. Acting as contractor for the project, Neutra completed the Lovell home in 1929.
Perched on a cliff overlooking the city, the modern and minimalistic "International-style" design features large expanses of glass. The many health-conscious features included in the design earned it the name "Health-House."
The 4,500 square foot Lovell house also claims fame as the first residential use of gunite, a spray-on form of concrete.
Film lovers may recognize this famous steel building from the movie L.A. Confidential.
The Stran-Steel House
In 1933, the Chicago Century of Progress Exposition (World's Fair) included a Homes of Tomorrow exhibit. Three of the homes in the exhibit highlighted various steel components. The Good Housekeeping/Stran-Steel House featured a prefabricated steel frame with baked-on enamel.
The Stran-Steel house framed up like a traditional wood house, simply substituting sheet-rolled steel studs for lumber studs.
At only 1,300 sq. ft., the "French Art-Deco-style" Stran-Steel Home seems small by today's standards. However, exceptionally high ceilings gave this famous steel building an illusion of spaciousness.
Over its two years of operation, 39 million people visited the Chicago World's Fair.
Impressed by the Homes of Tomorrow, many fairgoers bought blueprints and built replicas of the featured homes, including the Stran-Steel House. Some of these homes still exist today, including one in Wichita Falls, Texas.
Lustron Steel Homes
In the years following World War II, the U.S. experienced a severe housing shortage.
Nine million American veterans left the service and joined the workforce. Many married and started families. In addition, factory workers trained by industries supporting the war effort were now looking for homes of their own, too. For the first time, America's middleclass was earning enough to afford to buy homes, rather than rent— but found no homes on the market.
Ohio entrepreneur Carl Standlunds, designer of patented prefabricated steel-framed gas stations for Standard Oil, switched his focus to post-war residential building. Strandlunds believed mass-produced steel homes could solve the country's housing shortage.
Strandlunds designed small, affordable bungalows called Lustron Homes, using porcelain-enameled steel components. The two-foot factory-made exterior steel panels used polyvinyl chloride gaskets between the steel panels to assure a tight seal.
The prototype Lustron house was a 1,000 square foot two-bedroom design. Later, the company added alternative floor plans with one and three-bedroom options, offering eight designs in all.
The Lustron factory, housed in a million-square-foot-plus former Navy aircraft hangar in Columbus, Ohio, cranked out a model in about 400 man-hours.
The first Lustron Home left the factory in March 1948. The first model home, completed in Chicago in August 1948, attracted over 50,000 visitors.
Production for a Lustron Home required an average of twelve tons of steel and one ton of enamel. The prefabricated kits arrived ready to assemble, with an expected erection time of 350 man-hours.
Lustron Home kits sold for $6,000 to $11,000 (not including the lot). Lustron's steel homes sold through a builder/dealer network of 143 carefully chosen franchises.
Built-ins for the cottages included a bedroom vanity, steel tub and shower, a medicine cabinet, a dining room buffet, and enamel-coated metal kitchen cabinets. The models even boasted an "Automagic," a washing machine with a special rack for dishwashing! The orders also included the plumbing and fixtures.
Unfortunately, early estimates on the costs and production of Lustron Homes turned out to be wildly overoptimistic. The factory never met the expected 100 homes per day schedule. Disgruntled buyers fumed when faced with huge delays.
Lustron lost money on every home it sold. Sadly, Lustron came to an ignominious end when lenders foreclosed on the company in June 1950.
Before its ignoble demise, Lustron delivered almost 2,500 of its 20,000 steel home orders— in less than two years of operation. Lustron homes shipped to 36 states, including Alaska. Sixty Lustron Homes were built at the Marine Base in Quantico Virginia.
An estimated 1,500 Lustron Homes still survive today. Some of these beauties now proudly reside on the U.S. National Registry of Historic Places.
The White House
I can already feel your skepticism. The White House is a steel building?
Yes, it is.
Of course, the home of U.S. Presidents did not start out as a steel-framed structure in 1792. However, during President Truman's term of office, engineers deemed the aging White House structurally unsound.
Gutting the exterior of the world-famous house, engineers and builders used load-bearing steel framing and reinforced concrete to save the crumbling edifice. Renovations began in December 1949. Truman conducted the first televised tour of the newly completed White House on April 22, 1952.
With added wings and subbasements, the White House now covers 67,000 square feet.
Using RHINO Kits for Steel Homes
First of all, let's be clear. RHINO Steel Building Systems does not sell steel homes or barndominium kits. In fact, we offer no steel home floor plans or specific models in a catalog. Most of our customers order commercial and industrial steel buildings.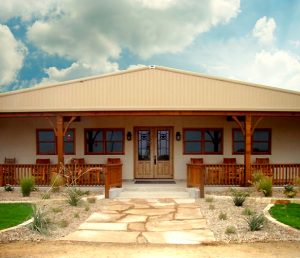 That being said, we do often sell steel-frame packages to enterprising custom homebuyers looking to design their own steel home.
Intrigued by the benefits of steel framing, these customers want the same advantages in their own custom home. Our home buying clients simply give us the dimensions for the home they envision. We design a pre-engineered steel building kit to fit their criteria and meet their local building codes. The homebuyers determine their own floor plan.
Since our clear span structures are self-supporting, customers layout the interior walls however they want.
Call RHINO today for more information on our structural systems. You may speak to one of our friendly, experienced metal building specialists by calling 940.383.9566.