Build Your Own Metal Hangar and Save Big
The number one way to save money on steel aircraft hangars is to assemble it yourself! And building your own plane or helicopter hangar is easy with a pre-engineered metal building kit.
Set Your Course for a Building Adventure
By nature, private pilots are confident and adventurous.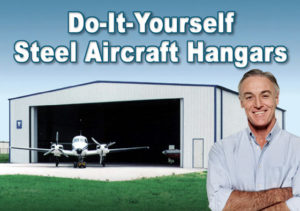 Most flyers are also quite handy. For example, they are perfectly capable of maintaining their own aircraft. Consequently, high-flying do-it-yourselfers find building their own steel aircraft hangars to be both fun and rewarding.
Pre-engineered steel buildings erect quickly. Everything in a RHINO metal building hangar kit comes to your hangar site clearly marked and ready to assemble.
Actually, you will discover building a hangar is much like a giant erector set for grownups. It is just plain fun! Call all your best buds and invite them over for building, bonding, and beer. You'll be surprised how quickly you will be ready to roll your plane or chopper into its beautiful new berth.
And just imagine the pride and bragging rights you will earn by building your own metal hangar!
Surrounding Your "Baby" with Steel Protection
Steel hangars provide the best protection possible for your first love: your aircraft. No other building material matches the strength-to-weight ratio of steel. Owners of steel aircraft hangars enjoy benefits like these:
Built-in strength against natural calamities like screeching winds, flashing lightning, devastating fires, and earthshaking tremors.
As an organic material, steel hangars resist the aging, rot, mold, and termite problems prevalent with wood hangars.
In addition, unlike web-truss structures, pre-engineered metal hangers do not invite birds in to "fowl" your spotless flying machines.
As a pilot, you want to spend as much time in the air as possible. Consequently, any time on the ground should be spent maintaining your aircraft— not your hangar. Fortunately, steel aircraft hangars require very little care, yet still maintain their good looks and value decade after decade.
The RHINO Difference in Steel Aircraft Hangars
Not all hangar kits are alike. RHINO Steel Building Systems offers distinct advantages for private pilot hangars:
Construction DVD and Step-by-Step Construction Manual
Die-formed ridge caps for a waterproof roof, plus closure strips for all eaves, base, and roof for extra weatherproofing
Engineer certified stamped plans for quick approval
Extra overlap on steel panels for increased strength and improved water resistance
Formed base trim that eliminates rust and saves about $300 on concrete costs
Framed opening trim for a sharper, more professional exterior
Heavy-duty 26-gauge purlin bearing rib-roofed (PBR) roof and wall panels for increased strength
High-strength self-drilling screws with durable, waterproof sealing washers
Simple bolt-together construction for 33% faster erection
Unobstructed interior space for greater maneuverability
What could be easier?
Find out more about RHINO steel aircraft hangars. Speak to a friendly and knowledgeable RHINO metal building specialist right now. Simply call us at 1.940-383.9566.