Build and Rent Space for Warehousing or Manufacturing Plants
We are approaching phase 3 in construction of a business park of industrial metal buildings in Denton, Texas.
You too can create a steady income stream with steel industrial buildings.
How to Start Investing in Industrial Real Estate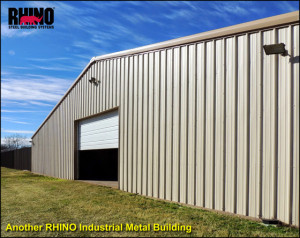 There are many things to consider before launching into the industrial real estate market. Most importantly: do your homework! There is no substitution for research.
Before you begin, consider the following questions:
SINGLE or MULTIPLE: Will you begin with a single warehouse, manufacturing plant, distribution center, or other industrial building— or are you planning or a larger industrial park, self-storage park, office complex, or mixed use development?
LOCATION: Does this area actually need more industrial space? Is this location in a high-crime area? Is the property near a major highway or intersection? Does the area have convenient access to nearby restaurants, gas stations, or retail centers? Is there adequate room for parking? Will the property require adding streets, curbing, water, sewer, power, or streetlights? Will the zoning allow mixed use of the property? Will there be room to expand the buildings if required?
DETAILS: Will the structures you are planning include energy-efficient options? Does the location require heating and air conditioning? Will they be structures be well lit? Are you going to invest in wireless accessories system? Will you build in office and conference room space?
CONTRACTS: How long will the lease for the property be? Will the lease price include all or part of the electricity, insurance, wireless, and water? Have you covered everything in detail in the lease agreement?
MAINTENANCE: What will be your out-of-pocket costs for grounds maintenance? Will you need building security systems or cameras and outdoor lighting? What needs to done to maintain the buildings themselves?
STRUCTURES: Will the buildings be flexible in use and in configuration? Can the structures be easily divided into smaller units if necessary? Will you pre-lease, building part of the property to suit specific tenants? What features will most appeal to potential tenants? Will loading docks be required? Will the business need additional space for shipping containers or raw material storage?
Patience and Persistence Pay Off
As with any other endeavor, developing industrial property comes with a learning curve.
It takes time to investigate the local industrial market, find potential properties, research the area, and screen for the best deal. Then the real fun really begins, as you navigate the maze of city planning, zoning, and permitting departments.
Inevitably, property development becomes a lengthier process than you originally imagine— but the potential return on investment makes it well worth the process.
At times, we've felt like tearing our hair out at the delays in the process of starting the RHINO Business Park. Yet nothing compares to the pride of finally seeing our own industrial park taking shape, phase by phase. We highly recommend the experience.
For more information about strong, durable, versatile industrial metal buildings, call RHINO now at 940.383.9566. Ask questions. Get a free quote. Our experienced and friendly steel building specialists are here to serve you.