Ask the Better Business Bureau Before You Buy
Before you start comparing pre-engineered steel building quotes, you need to know which steel building manufacturers you can trust. For most people, the starting point on gauging the trustworthiness of any business is the Better Business Bureau.
BBB: The Consumer's Best Friend
A non-profit organization founded in 1912, the Better Business Bureau (BBB) focuses on consumer protection.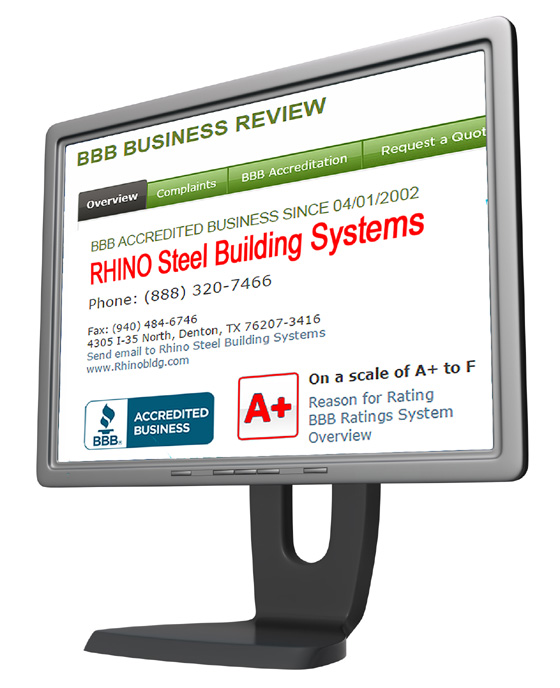 The BBB offers free business reviews to over 100 million discriminating consumers each year. The BBB also mediates almost one million disputes between consumers and businesses annually.
The BBB alerts the public to scams, possible misrepresentation, false advertising, consumer complaints, and unethical business practices.
Celebrating their 75th anniversary in 1987, the BBB received a glowing tribute from President Ronald Reagan. The message spoke of the "rich heritage of service." The President also said that the Better Business Bureau had shown themselves "to be the best friend American consumers have ever had."
We agree.
Finding the Truth in the Marketplace
The BBB does not endorse companies or products. It researches the qualifications and trustworthiness of each company.
The BBB rating for steel building manufacturers— indeed for any company— must be earned.
BBB Accredited businesses must meet stringent criteria— and continue to maintain specific standards— to be eligible for a BBB rating. These standards include:
Establishing— and maintaining— a positive track record in the marketplace
Advertising honestly, demonstrating complete honesty in their representation of products and services
Complete transparency in all business matters, including company ownership, company policies, product guarantees, and any procedures affecting the customer's decision to buy
Abiding by all written contracts— and verbal agreements
Responding to any complaints quickly and professionally
Collecting personal data only as needed— and safeguarding personal information against fraud or mishandling
Displaying company integrity in all transactions in the marketplace
In a word, does the company display TRUST?
RHINO Steel Building Systems Earns BBB's Top Rating
If a company passes the BBB evaluation process, it receives a rating.
The ratings are simple. Based on the grading system of school systems, BBB "grades" given to each company go from a failing grade of "F" to an excellent grade of A+.
RHINO Steel Building Systems proudly maintains the BBB's A+ rating— the highest rating possible.
The BBB page for each company also displays the number of recent complaints received about that company, and if those grievances were resolved.
Currently, RHINO steel building manufacturers have zero complaints with the BBB.
Let the Metal Building Buyer Beware
The companies who know they will fail a litmus test for trust and integrity never apply for Better Business Bureau accreditation.
When writing this blog, we picked metal building companies at random and checked them against the BBB database. A shocking 61% of those steel building manufacturers either had been refused BBB Accreditation, or had never applied for BBB Accreditation at all.
RHINO: A Metal Building Company You Can Trust
RHINO's reputation matters to us. We know the success of our company relies on customer satisfaction. We pledge to treat every customer with courtesy, respect, professionalism, and honesty.
Our goal is to deliver the best possible steel building at the best possible price— on time and on budget.
Call today for a FREE QUOTE on your commercial, industrial, aviation, or residential steel building project. Our number is 940.383.9566.