Every RHINO Steel Building is Made-to-Order for You
Customers new to the pre-engineered metal building concept often call us asking for a catalog. They think they must choose from a list of available models. They expect to thumb through a floor plan book, and then settle for the one closest to what they really want.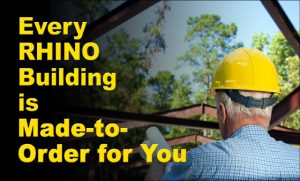 Ain't no such animal in the RHINO steel building world!
There are no "off-the-rack" buildings or "cookie-cutter" designs with the our metal building system. Every RHINO order is designed and manufactured to the customer's specific ideas and the building's location.
RHINO metal buildings give you a custom-designed structure at a catalog design price!
The RHINO Ordering Process
We design the structure; you design your own floor plan.
You tell us the size of the building you need— length, width, and height. You choose the exterior siding, the options and accessories, the roof pitch and style, door styles and placement— everything. Your RHINO metal building will reflect your unique vision— not someone else's plan from a model catalog.
Based on your choices and your local building codes, structural designers go to work to custom-draft your structure. Once you approve the design and place your order, we send detailed production drawings to the factory nearest you for fabrication. The entire metal building kit ships to your job site— ready to assemble— in a matter of weeks.
Limitless Possibilities with a RHINO Metal Building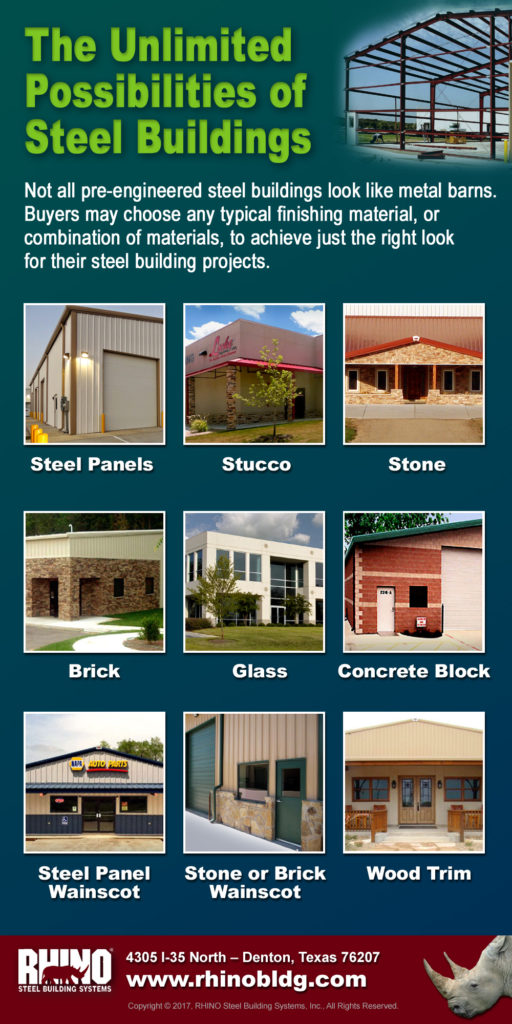 How does a metal building allow such floor plan freedom?
It is simple: superior strength. Steel boasts the highest strength-to-weight ratio of any structural material. Relying on the predictability of that strength, designers create the strongest possible structure with the least amount of material.
A clear span RHINO metal building supports its own weight without interior structural supports. In other structural systems, load-bearing columns or walls limit your floor plan options. With a RHINO clear span metal building, you can layout the interior any way you want— and change if needed— without worrying about compromising the structural integrity of the building.
Let your imagination go! Sketch your floor plan, create one on your computer, or work with an architect that is highly experienced with pre-engineered steel buildings. You could even draw a simple floor plan right on the slab with chalk.
Work with the Pros at RHINO
RHINO steel buildings offer a number of advantages over other construction choices. RHINO's structures are:
Affordable
Attractive
Damage resistant
Durable
Easy to erect
Eco-friendly
Energy efficient
Inexpensive to operate
Strong
Versatile
Weather resistant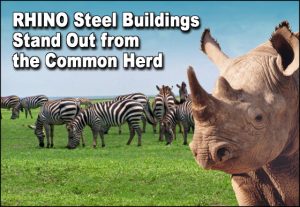 RHINO's steel building specialists assist you in planning your building from start to finish. We know the steel buildings inside and out. Our experts bring decades of steel building experience to your project— knowledge that can save you time and money on your project.
Call RHINO at 940.383.9566 now. Learn more about the advantages of a RHINO metal building.
Trust your building project to RHINO, the metal building company that stands out from the common herd.