Pre-engineered Steel Buildings: The Eco- Friendly Choice
Did you know pre-engineered commercial steel buildings help protect the environment?
Today American commercial builders and investors place great importance on using "green" sustainable building materials.  According to one Gallup Poll, 73% of Americans admit being concerned about the environment.
But is steel a green, sustainable building material?  You bet it is. Our enviornmentally-friendly buildings are not only good for the planet, they help you save more on building and repair costs.
Commercial Steel Buildings and Recycling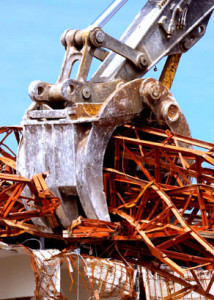 Steel is the most recycled material in the entire world.
The Steel Recycling Institute reports 82 million tons of steel scrap were recycled in 2011— more than plastic, glass, aluminum, and paper all combined.  Every ton of recycled steel saves 2,500 pounds of iron ore, 1,400 pounds of coal, and 120 pounds of limestone— while also conserving precious landfill space.
One of the reasons for the incredible success of steel recycling is that its magnetic qualities make it economical simple to separate from the solid waste stream with large electromagnets.
The steel industry is no Johnny-come-lately to the recycling bandwagon.  North American steel makers have been recycling for over 170 years.  Many steel recycling companies have been in business over 100 years.
New steel actually requires recycled steel for production.
No Loss of Properties with Recycled Steel
Remarkably, steel can be recycled endlessly without losing any inherent strength.  Steel is recycled over and over and over— without changing its properties.  What other recycled material can make that boast?
Steel is stronger, lasts longer—and at the end of the metal building's life it is 100% recyclable.
Producing steel with recycled scrap also takes a lot less energy to produce.  Using recycled steel reduces mining waste by 97%, air pollution by 86%, and water pollution by as much as 76%.
RHINO's Recycled Steel
RHINO's steel framing contains a high recycled steel content.  RHINO's prefabricated metal building systems ship ready to erect.  All framing parts arrive cut to length, welded, punched, and marked for easy assembly, reducing construction waste to practically nil.
Support green building by using RHINO metal buildings for your next low-rise commercial building project.  Call RHINO at 940.383.9566 for more details about our environmentally-friendly buildings.