The modern self-storage industry was born to save the American packrats from themselves— and make a tidy profit in the bargain. Pre-engineered self-storage metal buildings quickly dominated the industry.
Everyone means to get rid of all the stuff… someday. In the meanwhile, they continue to procrastinate, drowning in their own debris. Eventually it becomes so stressful they must buy a larger home and move all that stuff, or gather the gumption and jettison the junk— or find somewhere else to store it.
Pre Engineered Steel Storage Buildings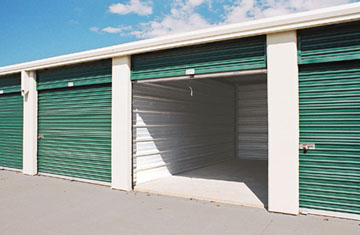 Since self-storage companies started opening for business in the 1960's, the industry has continued to spread and grow. Fifty years later, we have collected even more stuff— and need even more storage units to hold the overflow.
Consequently, almost one out of every ten American households now rents storage space.
Although we actually have more room than ever before, there still isn't enough room to store all the stuff. The average house in America today is about 2,400 square feet, compared to only 1,100 square feet in 1950.
The self-storage business increases proportionally as our stuff increases. Almost one household in ten now rents self-storage space.
Steel Storage Buildings: a Highly Profitable Investment
Mind boggling, isn't it?
It is also highly profitable:
Self-storage revenues in the U.S. top $22 billion annually, an average of $444,000 per facility per year.

Self-storage facilities are a tried-and-true business, generating income from the start using steel storage buildings.

There are fewer defaulted loans for mini-storage businesses than any other type of commercial real estate.

Savvy self-storage investors see to the true heart of any investment: solid performance and the ability to turn a profit.

Self-storage real estate investment trusts (REIT) have the highest returns of any real estate category— 35.22%, based on information supplied by REIT.com. Compare that to the next two highest REITs: residential at 15.37% and health care at 13.63%.

Surprisingly, 90% of self-storage businesses are owned by small investors, not large corporations like U-Haul and Public Storage.
Cashing In On The Boom With Self-Storage Construction
High-quality pre-engineered steel storage buildings are the most popular choice for self-storage construction. Self-storage steel steel buildings are quick and simple to assemble, sturdy and reliable, damage-resistant, long lasting, and require little maintenance.
Self-storage renters flock to facilities offering the best protection and the most convenient admittance. To safeguard a customer's valuables in a self-storage facility, steel storage buildings must be strong, waterproof, and durable. To protect the image and reputation of the storage company, the structures must be attractive— and retain their beauty for years to come.
Only a premier metal building system will provide the secure, appealing, durable mini-storage facility that will attract renters— and win their trust.
RHINO Self-Storage Metal Buildings: Quality Product, Affordable Price For Self Storage Construction
Just as a self-storage business needs to earn the trust of potential clients, RHINO has spent the past fifteen years earning the respect and loyalty of their customers.
How? By supplying first-rate products and first-class customer support for self-storage construction. Over 39% of our orders in the last twelve months came from repeat clients and first-time buyers referred by previous customers. RHINO also maintains an A+ rating from the Better Business Bureau.
RHINO steel storage buildings are the economically sound choice, too. Our durable steel buildings age much slower than wood buildings. Attractive RHINO steel storage buildings retain their value for decades of maintenance-free operation.
Cash in on the stampede to self-storage facilities. Build your own self-storage business with RHINO-tough pre-fabricated steel buildings.
Please call RHINO now for more details about our versatile steel buildings and options for self-storage construction. Estimates are free and so is the call: 940.383.9566.