Using Pre-engineered Metal Buildings for Church Structures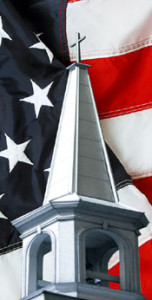 Pre-engineered steel buildings are versatile, flexible, attractive— and surprisingly affordable. Many American congregations now rely on strong, durable, steel for church buildings, including worship, classroom, administrative, and recreational structures.
General Guidelines for Estimating Church Building Size
As congregations grow, church building committees must stay ahead of the curve by building today, while planning for the future.
According to Reed Construction Data, the average church building in America today is a one-story structure about 24' in height, containing approximately 17,000 square feet.
The following information provides general rules of thumb on estimating church building sizes. (A professional architect experienced in church design can provide more exact details.)
Be realistic in your estimates of congregation size. Do not assume "if you build it they will come."
Normally, at least one acre of land is required for every one hundred people in attending.
Estimate at least one parking space for every 2.25 people present at one time. Figure on about 100-120 parking spaces per acre.
20' in height should probably be the minimum for the main worship area.
For a congregation of 300 or less, generally estimate 15-17 sq. ft. per person for the sanctuary. Congregations over 300 should allow 12-24 sq. ft. per person for the worship area, depending on the type of seating. (Using chairs instead of pews generally allows about 20% more people in the same space.) These guidelines do not include the area needed for altar, pulpit, and choir section at the front of the worship area.
Assuming about half of those at the main worship service will also attend classes, use a general estimate of 12 sq. ft. per the worship area's projected attendance for total classroom square footage.
Building codes may allow 4' wide hallways. However, it is best to plan on a minimum of 6'-8' in width to allow for uncongested traffic— especially outside classrooms and nurseries.
Total building size estimates should probably be at least 50-60 square feet per person typically attending— not per person on the church rolls!
Keep in mind that many church building committees vastly underestimate the space needed for working areas, janitorial space, and storage.
Consider estimating 180-200 square feet for each individual working in administration, with a larger space for pastoral offices.
Call RHINO Today for a Building Quote on your next Church Project
RHINO steel church buildings allow you to spend more of your tithes on your ministry and less on its building projects. There is no stronger, safer, more economical way to build than RHINO prefabricated metal buildings.
Discover The RHINO Difference before you build.
Call RHINO Steel Building Systems now for more details and a free estimate on your next church building project, or any other metal building needs.
Related RHINO blogs:
• Amazing Steel for Church Building in America, Part 1
• 9 Reasons Churches Choose Steel Buildings