Pre-engineered Metal Buildings: The Best Building Value for Today and Beyond
Pre-engineered steel buildings have long dominated agricultural and aviation construction. Now steel framing commands the lion's share of commercial and industrial construction as well.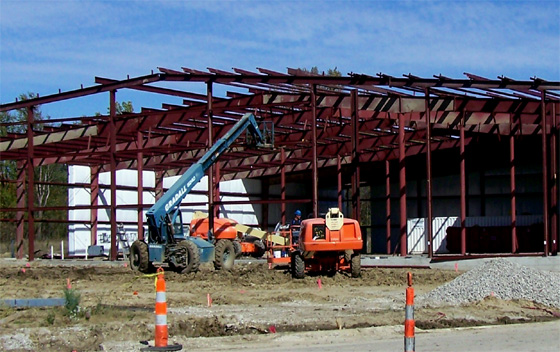 Today steel frames almost 80% of all new commercial structures. Steel's market share of industrial construction climbs even higher, with 95% of new industrial buildings now framed with steel.
Shrewd business people choose metal buildings more than any other low-rise construction method. They depend on steel's quality, strength, versatility, durability, and practicality, of course. But most of all, perceptive businesspeople continually choose pre-engineered steel buildings for a healthy for the bottom line. They know that steel buildings are not only a good investment today, but also very cost-effective long term.
Homeowners are increasingly choosing prefabricated metal buildings for residential accessory structures, too. Pre-engineered steel buildings make great workshops, hobby shops, multi-car garages, RV and boat storage, man caves, and multi-purpose storage structures for space-challenged homeowners.
Today's Benefits of Pre-engineered Steel Buildings
Pre-engineered metal buildings simplify the sometimes tedious design stage of a construction project. Prefabricated steel building benefits during this stage include:
1.  Most cost-effective building system on the market. Steel pricing historically very stable.
2.  High-quality, commercial-grade steel framing. Premium corrosion-resistant rigid steel.
3.  Steel's proven track record.
4.  Sophisticated, top-of-the-line design software streamlines the process. 3-D design analysis assures structural integrity. Optimizes use of materials to keep pricing low.
5.  Every structure designed and manufactured specifically to the individual customer's requirements.
6.  All RHINO final plans stamped by engineer licensed in your state.
7.  Unrestricted floor plan possibilities. No load-bearing walls required on clear span designs.
8.  Unlimited design flexibility. Anything you dream can be designed with steel. Endless possibilities.
9.  Clear span capabilities, for large unobstructed space. Ideal for churches, aircraft hangars, manufacturing, large equipment storage, riding arenas, warehouses, sports facilities, and the like. RHINO Steel Building Systems allows for 150' wide unobstructed space on a standard design. Widths of 200' or more possible on custom orders.
10.  Because of steel strength, soaring ceiling heights possible. Allows room for overhead cranes, mezzanines, fire suppression systems, or towering church sanctuaries. RHINO allows eave heights up to 40' on standard orders. (Even taller structures available with custom quotes.)
11.  High quality, durable 26-gauge PBR steel roof and wall panels in an array of color choices. Standing seam roof panels available in 24-gauge. Reflective, energy-saving cool-coated panels also available as an option.
12.  Pre-engineered steel buildings not restricted to steel panel exteriors. Choose brick, stone, stucco, tilt-up concrete, glass, hardy plank or wood— or any combination of these exterior building materials.
13.  Choose various exterior profiles to create the look desired. Gable or hip rooflines, custom fascias, vertical fascias, extended canopies, or extended eaves all possible with steel.
14.  Customized structure at standard pricing with RHINO options like vents, steel gutters and downspouts, skylights and wall lights, overhead and hangar doors, walk-in doors, mezzanine floor systems, interior steel panels, partitions, insulation packages, and pipe boots.
15.  Compliant with all local building codes.
16.  RHINO's professional steel building specialists to making ordering process simple and efficient.
RHINO Steel Buildings Benefits: This is Only the Beginning
Be sure to see the next installments in this series for 61 additional advantages of RHINO metal buildings— during construction, during long-term use, and beyond the structure's lifecycle.
For details about RHINO prefabricated steel buildings and their countless variations, please call one of our metal building specialists right now with questions, or for a no obligation quote.
RHINO number: 940.383.9566.
Also see: